Glee Club Concert on Sunday
• April 9, 2015

Share: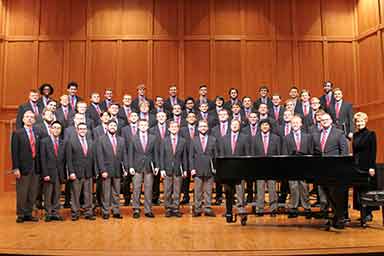 The Wabash College Glee Club will present its Campus Concert at 4 p.m., Sunday, April 12, in Salter Concert Hall in the Fine Arts Center.
The men of the Glee Club recently returned from their 2015 Texas Tour that featured a dozen performances in Austin and San Antonio, including two Sunday services in the oldest Episcopal Church west of the Mississippi (St. David's), a performance in the Rotunda of the Texas Capitol, concerts at the Dell Children's Medical Center, the Texas Neuro Rehab Center, the University of Texas Charter Elementary School, Vista Ridge High School, and Longhorn Village Retirement Community – with additional performances at the Alamo and in the LBJ Presidential Library.
For this concert, the Club looks forward to answering the question that follows them wherever they perform: "Just what is a Glee Club, anyway?" As one of the oldest men's glee clubs in the United States (founded in 1892), this year's 44 Glee Club members have willingly assumed the task of formulating a satisfactory response in the manner they know best: in word and song.
Highlights of Sunday's program include: a sacred song composed for a company of Bavarian firefighters, who not only extinguished conflagrations, but sang as well; a traditional spiritual; two madrigals; a pair of stylistically diverse songs – each composed in memory of a lost loved one; an ode to blossoms, beauty, and birds; one of pop singer Josh Groban's greatest hits; and a song in Swahili, from the video game, Civilization IV.
Featured soloists in Sunday's program include Wabash College freshman, Dan Azar, sophomore, Dustin Gardner, senior, Patrick Kroll, sophomore, John Savieo, and senior, Pierce Velderman. In addition, the "Piano Philharmonia," will present Cheryl Everett's arrangement of Texas Rose, which was premiered in Austin, Texas last month. Performers and audience alike will enjoy the opportunity to view Eileen Bowen's Texas Tour Highlights video presentation.
The Glee Club is under the direction of Dr. Richard Bowen and is accompanied by Ms. Cheryl Everett.
The concert is free and open to the public.