Posthauer Making 4th Trip to Nationals
by Howard Hewitt • March 12, 2015

Share:
Ronnie Posthauer '15 has a shot at a national championship for the fourth straight year. The Wabash hurdler has ran in either the outdoor or indoor championships since his freshman year.
Posthauer is the only Little Giant at the NCAA National Indoor Championships this weekend at Winston-Salem, NC. The senior runner should have added confidence for this year's meet after holding the fastest time in Div.3 in the nation earlier this year.
"He just needs to stay focused and not change anything," Coach Clyde Morgan said. "A lot of people were so excited he ran that time and led the nation for a couple of weeks and that time seeds him 8th all-time in Div. III. Then he ran it again this past weekend."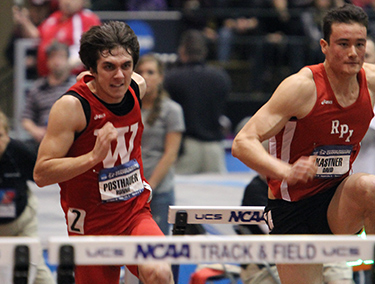 But those laurels won't get him a title. Posthauer is seeded fourth behind two previous national champions. His Wabash school record and that national qualifying time was 8.04 seconds. Last year's indoors national champion was Luke Campbell, Salisbury College, who won the title in 7.75. Posthauer got off to a great start last year but faded to 13th in 8.21.
"Going into this competition knowing that I have a shot at the national title comes with a fair amount of pressure," Posthauer said. "I just have to trust in Coach Morgan, the training, and all of my hard work. Now is not the time to start second guessing myself or the plan. A lot of people start changing their routine or the way they coach for this competition because it's Nationals. I just have to do what got me here in the first place. That includes staying calm and treating it just like any other track meet."
Morgan said Posthauer's effort from his junior year is why the senior could win a title this weekend.
"He struggled last year," Morgan said. He did fine academically but personal stuff and some emotional things hindered him. He fought through that like crazy and then finally just bought in. He's been an All-American before that but he finally just bought into everything – eating right, lifting, the lifestyle of an athlete and its paying off."
Morgan said this year Posthauer would often be in the Fieldhouse or fitness center before he ever arrived at the building. "He's speaking up more. We always preach when you handle that stuff – lifestyle, academics -it makes athletics a little easier. He's proved all that."
Posthauer has been a fixture on the national scene and an All-American. He's poised for his best ever finished but knows his track career is nearing an end.
"It isn't a question a lot of dedicated athletes want to face," Posthauer said. "It's going to be difficult adjusting to life after track and field. It's been a long-term commitment to which I've dedicated two hours of every day for the last 12 years. I'm just thankful I have an outdoor season left, although I'm sure I will be much more emotional when that season comes to a close. The only thing I can do about that is to have no regrets and push my body and mind to the limits in every aspect of training."
Posthauer will run in the pre-lims Friday afternoon. If he qualifies, the finals are on Saturday.