Students Begin Spring Immersed
by Ty Campbell '16, The Bachelor • March 4, 2015

Share:
Class immersion trips offer unique experiences to students that they cannot be exposed to in a classroom. The classes participating in immersion trips will visit during the week of Spring Break. While each class has its own schedules and goals for the trips, everyone is hopeful of a unique learning experience.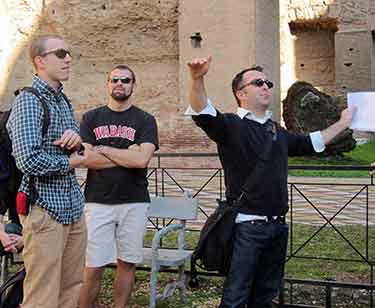 Dr. Jeremy Hartnett, Associate Professor of the Classics Department, is accompanying students for a third time to Rome, Italy. Along with Dr. Derek Nelson, Associate Professor of Religion, and Dr. Walter Novak, Assistant Professor of Chemistry, Hartnett will be focusing the class on the topic of early Christianity in Rome. The class of 16 students, with all but two that have never traveled to Rome, will engage in a city tour. The schedule consists of specially approved access to everything from the Vatican to a recreational soccer game.
Immersion trips offer multiple benefits to the students. "These trips create lasting memories that people want to share with loved ones in the future," Hartnett said. Experiencing an event in reality adds an extra dimension that cannot be taught.
"You get to experience things," Harnett said. "You get to feel what it feels like to be dwarfed by a temple. What it's like to hear your voice echoing across a theater that's built to boost acoustics. Those kind of things let students create their own narrative."
In anticipation of the trip, Hartnett's class has dedicated the first few minutes of each class period for learning Italian phrases.
Hartnett frequently hears of class immersion trips and study abroad experiences discussed during senior comprehension conversations. "I wish we could take everybody for a much longer time," he said "These are high impact experience for our students. They're worth every dime and we need to thank alumni supporters."
Professors are not the only members excited to participate in the class immersion trips. Clayton Servies '16 will be attending his first immersion trip. Servies will travel with 10 other students from Dr. Eric Wetzel's Invertebrate Sciences class to Belize. The weeklong trip includes snorkeling and observing organisms the class has been studying in the classroom. While on the island, the students will participate in several activities to enhance their learning and trip experience. "We have a journaling project and will write about each of our snorkeling adventures and participate in a small experiment on our own," Servies said.
This trip will be Servies first time out of the country. As a Biology major on a strict academic calendar, Servies did not believe he would be able to study abroad for an entire semester. "It gives me the opportunity to travel while I'm still in college. It'll be a great experience," Servies said. The class plans to leave early Sunday morning and return to the United States the following Saturday.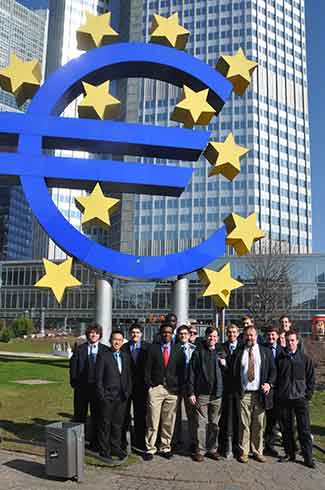 Other students awaiting their immersion trips are just as excited. Seton Goddard '15 will be participating in Politics of the European Union traveling to Frankfurt, Germany and Brussels, Belgium. Among several planned events, the class will visit the European Central Bank and the European Commission. Goddard is excited for the exclusive access the trip provides and is eager to gain new perspectives. Goddard explained that besides experiencing a new culture, interaction and communication with individuals knowledgeable about the studied subjects is critical. "It humanizes what you're studying," Goddard said. Dr. Peter Mikek, Associate Professor of Economics, and Assistant Professor of Political Science Dr. Ethan Hollander are teaching the class and will guide the students on the trip in March.
Goddard has participated on immersion trips previously, including trips to Washington, D.C. and Peru. Aside from the overall learning experience, Goddard appreciates the other benefits of class immersion trips. "You go on these trips and you may not know the other students very well. But you all come back and become good friends," Goddard said. The Wabash senior also adds advice to any students who are participating in an immersion trip for the first time or consider taking one in the future. "Be flexible. Stuff changes when you try to coordinate a trip a continent away. You sometimes have to roll with the punches and do what you must to make for a productive trip," Goddard said. Similar to the feeling before his previous class immersion trips he has attended, Goddard is excited about the class trip to Europe.
Professors Dan Rogers and Jim Brown will lead a class to San Cristobal Mexico. Art Professor Elizabeth Morton is taking students to New York City. Theater professor Dwight Watson will have students in New New York.
Blog posts and photos from many of the trips will be featured during Spring Break week on the College website and social media.
Spring Break Service
Since 2007, Wabash men have joined forces with members of the First Christian Church to help hurricane victims located around the Gulf Coast. Keith Strain, Pastor at First Christian Church in Crawfordsville, hopes to continue the combined philanthropic success this year with yet another trip down South.
Eight years ago Jonathon Baer, Associate Professor of Religion, heard a report at his church from those who had gone to the Gulf Coast to aid in the rebuilding after the duel blows of hurricanes Katrina and Rita. Baer approached Strain, wondering if it might be possible to do a trip that fused the capable energy and concern of Wabash men with the experience of the church's laymen. The trip has become a beneficial and worthwhile experience over the past several years. Other Wabash College faculty members who have taken part in the trip include Associate Professor of History and Jane and Frederic Hadley Chair in History Dr. Richard Warner, and Professor of Mathematics & Computer Science Emeritus Dr. David Maharry.
"In March 2007, a group of just less than 40 Wabash men and First Christian laymen spent a week in the Lower Ninth Ward of New Orleans," Strain said. "They helped clear houses for rebuilding, made repairs to a roof, and assembled a roof onto another house. This was at a time when the streets were still littered with debris and almost all the houses were vacant. In sight of where we worked was a large FEMA trailer park providing temporary housing."
Since the first trip, a mission trip has been planned during Wabash College's spring recess to send a group down to New Orleans. Those attending focus on the Ninth Ward of the City, one of the hardest hit sections and the farthest from recovery. Volunteers have engaged in several activities ranging from demolishing wrecked houses to building structure from scratch.
While great progress has been made in the damaged sections of New Orleans, there is still a large amount of work and repair that needs to be accomplished. "Skills are not required. A desire to help people and to work hard is essential," Strain said.
Strain wishes to continue sending members of his church and Wabash community patrons down to the Ninth Ward. This year the potential group is considering two different possibilities: plan a trip during spring recess or after spring semester final exams. The latter would probably be scheduled the week of May 10-16.
"The trip is financed by participants and supplemented by First Christian. We have asked each person taking part to raise $250 which covers all their expenses (this includes transportation, meals while traveling and on site, work fees and housing cost). We encourage participants to seek funding by asking others to support their efforts. We stay in a building built by the Christian Churches to house groups like this. The Mission Station has plush bunk beds, A/C, seven showers with on demand hot water, washer/dryer and WiFi," Strain said.