Connection Leads to Teaching
by Richard Paige • March 3, 2015

Share:
It seems too convenient.
According to Homer Twigg, it was just another example of the strength of those lasting Wabash friendships.
"We had kept in contact," Twigg said. "The friendship became a little stronger after college. The Wabash connection was there, and the network here (in D.C.) is very strong. It's nice to have a friend help you out."
Josh Harris knew it was a good fit.
"He is a sharp guy, and I knew he was living in Washington," said Harris. "It seemed like a natural fit, so when a position opened up, I spread his résumé around the water cooler."
That's how two members of the Class of '08 came to make up nearly a quarter of the theology department at DeMatha Catholic High School, in Hyattsville, MD, a school with a goal, according to its website, of "creating gentlemen and scholars."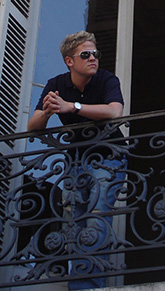 Perhaps, it was just meant to be.
Whatever the reason, Harris and Twigg are positively impacting the all-boys school of 800. Principal Daniel McMahon feels the experiences at Wabash allow them to identify what makes educating males unique.
"Josh and Homer are both remarkably passionate teachers and scholars and they give kids a view of how an adult can achieve manhood," said McMahon. "Boys hunger for that meaning and to have lots of different examples of how to achieve manhood in the 21st century. Those guys can speak to that, and model that, with an authenticity that is extraordinary."
Harris' passion has been on display at DeMatha for five years. In that time, he's proven himself an excellent teacher, recently honored by the Archdiocese of Washington for distinguished contributions inside the first five years of a teaching career.
In addition to teaching classes like honors Christian ethics, Harris also is in demand as a leader of independent studies. McMahon says Harris' ability to connect is rooted in the Wabash experience of small classes and interaction with faculty members.
Harris sees it more simply. "It's amazing how much respect and admiration one garnishes by simply asking about a kid's interests and extracurricular," he said.
Listening to Harris, it's not surprising that he is a product of the liberal arts, as he sprinkles conversation with references to Plato, Aristotle, Dante, Kierkegaard, and Graham Greene. His classroom features a photo of Bill Placher '70, and his aim is to engage his students.
"In my courses, we talk about economics, sociology, politics, literature, art, music, history, psychology, physics, geometry, and law," Harris said. "There is, when talking about the divine, no topic that it does not reach. That makes class a lot of fun, opens up worlds of discussion topics, and sparks interests within even the surliest student."
Following graduation, Twigg found work at a monastery in Italy, met his wife in Rome, and eventually settled in Washington, D.C., to pursue a Ph.D. Though it took him a while to find his way into the classroom, he calls teaching his vocation, saying he's wanted to teach religion since graduating high school.
Twigg's first attempts to bond with his students – three classes of freshmen and one of sophomores – stressed the importance of the subject matter. Through logic, he said that his class would be more important than any other they would take.
"When they get married, have their first child, or are lying on their death bed, they won't be thinking about Ralph Waldo Emerson or the quadratic formula, they will be thinking of the eternal things, the big questions," Twigg responded. "It's my job to equip them with the tools to come to terms with those big questions, and not just in a touchy, feely, sentimental way, but with manly academic rigor."
He brings a different approach to the classroom, and part of that comes from his experiences abroad.
"What makes Homer interesting is his worldliness, having lived abroad for so long after graduation," Harris said. "Bringing that to the classroom is undoubtedly an invaluable resource."
Those resources are paying dividends, even for the first-year teacher. Twigg cites his introduction of the Lectio Divina, a brief meditation or silent contemplation of a phrase of scripture at the start of every class.
"After five minutes of silent meditation, they are totally centered, focused, and ready to learn. That's definitely an advantage I have in not trying to corral the kids. It also offers me last minute prep time while they have eyes closed," he laughed.
McMahon says that he can see the Wabash influence in Harris and Twigg in how they teach and relate to their students and develop well-rounded men.
"One of the things that Wabash does so well is to educate the whole man," McMahon said. "The breadth and depth of knowledge those guys teach in theology, while delivering background information in psychology, development, languages, and an appreciation in humanistic traditions and learning, is impressive."
Harris is more succinct.
"If you're a good friend, as Aristotle teaches, you can be a good man," he said. "I want to teach my students to be, above all else, good friends and, in turn, they'll be good men."