Lacrosse Ready to Open First Season
by Jocelyn Hopkinson '15 • February 9, 2015

Share:
There will be some growing pains in Wabash's inaugural lacrosse season, but Coach Terry Corcoran doesn't lack confidence in his team's ability to grow.

"The student athlete here is very different than what I've seen at other places," Corcoran said. "You can't count out a Wabash team or Wabash athlete. I've seen that in the two years I've been here, which is what has me excited."

Corcoran cited other Wabash programs as evidence, including the soccer team's upset last fall over second-ranked Kenyon, and basketball's recent victory over tenth-ranked Wooster.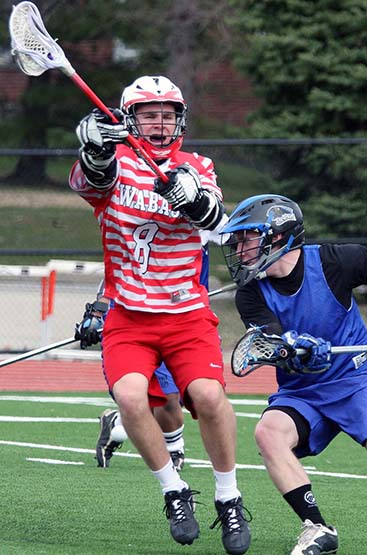 The upcoming varsity season — which begins Saturday, February 14 at 1 p.m. (CST) at Fontbonne University after a preseason scrimmage this Saturday at Centre College at 1 p.m. — has been in the making for over a decade. Lacrosse started at Wabash in the late 90s as a club sport. The club team slowly gained popularity and began pushing to become a varsity program. The official announcement elevating the program to varsity status came almost two years ago and the College hired Corcoran shortly afterwards.

"It's kind of surreal that in my senior year, we've finally become a varsity sport," senior midfielder Glenn Patterson said. "We've been pushing for this since I was a freshman and it was a long process, but then again it's come upon us really fast."

Patterson served as a member on the coach-search committee – Corcoran was thrilled Wabash found him.

"The intangibles that go with a successful program are what attracted me to Wabash," Corcoran said. "Support from the administration, faculty, athletic department, and student body is second to none. I've never seen such wide support. Everybody here is committed to the student athlete."

Athletes were committed to the club team last year when players and Coach began to understand each other.

"For me to have that engagement with the athletes, I could find out what they're all about," Corcoran said. "I learned about their interests, why they come here, where they're going, and got a clear idea of what motivates them. Everything I discovered was better than I thought it would be."

The differences will be minimal for club guys last year now playing varsity. However, as in any sport, freshmen will struggle the most in balancing academics and athletics.

"Although we were a club sport, a lot of the skills you need for a varsity sport like discipline and time management were needed at the club level too," Patterson said. "The guys who were in the club are trying to help the freshmen understand what it takes to be a student athlete at Wabash."

The first Wabash Lacrosse season will begin 1 p.m. this Saturday at Center College with a scrimmage. The Little Giants' first varsity game will take place at1 p.m. (CST) February 14 at Fontbonne University in St. Louis, Missouri. See Roster Here.

Corcoran listed some players that he'll heavily rely on, including Patterson, goalie Todd Hoogland, and tall, lengthy defensemen Austin Jarrett, Scott Purucker, and Holten Warriner. With the skill and length on the back end, opponents might struggle to find the net against the Little Giants.

"Like any sport, we're going to focus on defense," Corcoran said. "If you can apply pressure, be physical, and win the one-on-one battles whether it's on the football field, basketball court, or anywhere, you're going to have an advantage."

Corcoran said defense "is about attitude" while the offensive skills "will come in time." Defensively, Patterson said the team will play a "string" scheme with man-to-man on the perimeter and defenders playing in zones in front of the net. If a perimeter man is beaten, it is everybody else's job to shift accordingly, similar to help defense in basketball
.
"Communication is going to be a key part," Patterson said. "You always have to know where the ball is on the field. If you're the farthest away from the ball, you have to pay the most attention. If one of your teammates help out another guy, you have to pick up his responsibilities."

The offensive end will require a little more precision than simply hustle and muscle. Six attackers will either work in two groups of three, or three pairs. Patterson said players are working on basic formations and pick and rolls.

"We didn't have the motions or picks in club," Patterson added. "A lot of it was making it up on the spot like backyard stuff. We're definitely running a more sophisticated offense. It's similar to when I played football freshman year with how the coaches throw so much stuff at you in the first week and you have to pick it up. There are growing pains and that's how it is right now. Coach Corcoran is throwing a lot at us and we're doing it over and over again until we get it right."

It might be an early struggle, but this team and this program will get it right in all facets. Patterson is honored to set that trend.

"I love the fact that we're the first varsity team," he said. "No matter how the season ends up, there will always be that special significance of us being the first team. We took our first team photo last week, and I'm going to remember that picture for the rest of my life."