Improvised Shakespeare Co. to Perform
by Richard Paige • February 2, 2015

Share:
"With mirth and laughter let old wrinkles come."
The Improvised Shakespeare Company, an improvisational theater group from Chicago, promises a night of merriment when it visits Wabash College's Ball Theater at 8 p.m. on Saturday, Feb. 7.
Based on audience suggestion, The Improvised Shakespeare Co. creates a fully improvised Shakespearean performance each time it takes the stage, providing an evening of off-the-cuff comedy using the language and themes of William Shakespeare. Nothing is planned, and dialogue and characters are created on the spot, enabling possibilities for a tragedy, comedy, or history. Each play is a completely unique experience.
Founded in 2005, The Improvised Shakespeare Co., will be making its first Wabash College appearance through support of the Robbins Family Fund. Troupe members Joseph Bland, Brendan Dowling, and Blaine Swen are scheduled to perform.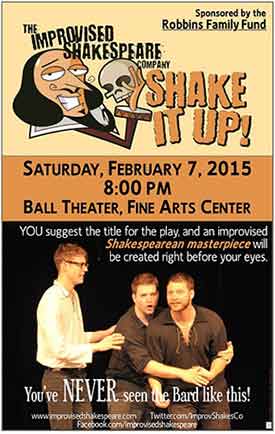 The Improvised Shakespeare Co. has been named Chicago's best improv group by both the Chicago Reader and the Chicago Examiner, has been honored by the Chicago Improv Foundation, and received a New York Nightlife Award for "Best Comedic Performance by a Group."
Established by Clay '79 and Amy Robbins, the Robbins Family Fund is an endowment that supports student-centered events and activities at the College, including cultural and performing arts events, movie nights, speakers, pep rallies, and periodic "Evening of Discourse" events that bring together a cross section of the Wabash community for important conversations on timely topics.
"We, as a student body, are very fortunate to have the generous support of the Robbins family provide another avenue for us to bring events and activities to campus," said Patrick Bryant '16, Wabash student body president. "Their gift is an investment in us and I think it will improve student activities."
The Improvised Shakespeare Co. appearance is the inaugural Robbins Family Fund event to appear on campus.
"While we empower our students to develop the calendar of events for outside-the-classroom education and entertainment, we constantly seek to assess and broaden those opportunities," said Michael P. Raters '85. "The Robbins Family Fund enables us to supplement the usual fare with additional options that can entertain and engage our students."
Clay Robbins majored in religion and served as president of the College's Psi Chapter of Phi Gamma Delta fraternity and the Wabash Glee Club. A Lilly Scholar, he graduated magna cum laude in 1979 and later earned his law degree from Vanderbilt University. After practicing with Baker and Daniels in Indianapolis for a decade, Clay began his career with Lilly Endowment as Vice President for Community Development. He became President of the Endowment in 1994, and in 2012 was elected the Endowment's President and CEO. He and Amy have three sons, Campbell '09, Luke '11, and Peter '12.
Amy Robbins is a speech-language pathologist, who earned her bachelor's degree from Hollins University and her master's degree in audiology and speech science from Purdue. Her practice focuses on deaf children who use cochlear implants.
This event is free and open to the public.