Wabash Remembers Professor Dick Strawn
• February 2, 2015

Share: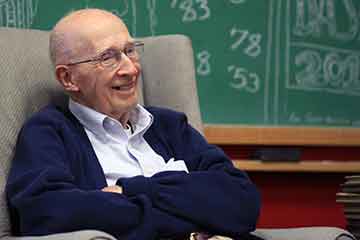 Richard R. Strawn, Professor Emeritus of Wabash College, died on Sunday, February 1 at the age of 91. He was born June 19, 1923 in Independence, Kansas to Guy Taylor and Luella Vickers Strawn. On Christmas Day in 1944, he married Doris Marjorie Turner, who died in 2011. He is survived by his teacher son Andrew (Diane, Bloomington, IN), veterinarian daughter Sally (Redlands, CA); three teacher grandchildren and their spouses; and three great grandchildren.
He was educated at his hometown junior college and at the universities of Iowa, Kansas, Wyoming (in the Army Specialized Training Program), and Yale. He taught French language and literature, linguistics, and humanities topics at Wabash College from 1951 to 1987 and served briefly as Librarian. He also taught at Kansas, Wyoming, Yale, and Indiana University.
His interests included translation (Francis Ponge), bibliography (Montaigne), American culture (as lecturer at the center for foreign Fulbright students, Indiana University), and music. He studied in France on a Fulbright Fellowship and a Wabash McLain-McTurnan Fellowship. With a Lilly Faculty Open Fellowship, he learned to make singable English translations of works in French, Italian, and Spanish, several of them for the Indiana University Opera Theater. With his colleague in Russian, Peteris Silins, he translated Rimsky-Korsakov's "Christmas Eve" for an IU production later broadcast on PBS. He wrote the libretto for Fredrick Enenbach's "Crimson Bird," a chamber opera produced at Wabash College in 1978, and a library manual for students' research.
He loved to play violin and viola and strove to play the cello.
He has donated his body to the Indiana University School of Medicine. Memorial donations made be sent to the University of Kansas Endowment, P.O. Box 928, Lawrence, KS 66044-0928 or to Wabash College, c/o Advancement Office, P.O. Box 352, Crawfordsville, IN 47933.
Wabash Magazine Editor Steve Charles interviewed Dr. Strawn in June 2013. You can also watch the entire interview on video on the College's YouTube channel.