Hudson Featured in Journal
by Steve Charles • January 13, 2015

Share: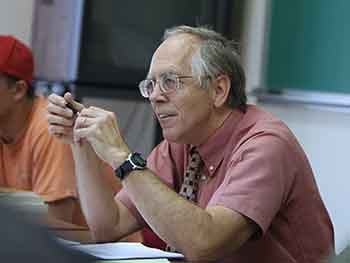 Professor of English Marc Hudson was walking in Shades State Park 12 years ago when he began writing the poem that would become "The Sugar Creek Sutras," published last spring in the Silk Road Review.
"I had found a flat stone near a small waterfall on a stream," Hudson says in an interview for the online edition of the literary journal, where the poet is this month's showcased writer. "I often had with me on those excursions Stephen Mitchell's translations of The Tao Te Ching. But there, listening to the creek, I wrote the first verses of the poem:
Moss on many-layered sandstones,
volleys of swallows
under dark overhangs—
The interview explores Hudson's art, from the poets who inspire him to the specific places he writes.
"Usually I scribble my drafts at the capacious writing desk my father made for me 40 years ago," Hudson says. "But I can write pretty much anywhere, fortunately, poems being such portable things."
A teacher of creative writing and medieval studies at Wabash, Hudson has published three books of poetry, Afterlight, Journal for an Injured Son, and The Disappearing Poet Blues, as well as a translation of Beowulf. His book length manuscript, Swimming the Acheron, was a finalist for the 2014 National Poetry Series. His awards include an NEA Fellowship in Poetry, the Juniper Prize, the Strousse Award, and the Allen Tate Prize.
Read more at the Silk Road Review, and read "The Sugar Creek Sutras" in the Fall 2014 issue of Wabash Magazine.