Buresh Repeats As All-American
by Brent Harris • December 19, 2014

Share:
Wabash College senior Cody Buresh wrapped up his football career with the Little Giants by earning 2014 D3football.com Second Team All-America honors as a defensive end.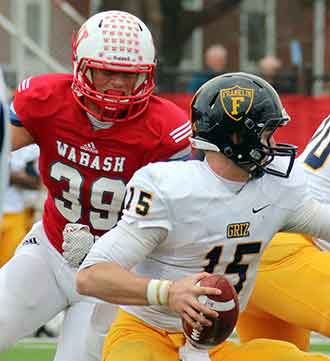 Buresh was a 2013 D3football.com First Team All-America pick and was also selected to the 2014 D3football.com Pre-Season All-America First Team. He also earned 2014 All-America honors from the American Football Coaches Association. Buresh is one of 15 Little Giant players to earn D3football.com All-America honors since the program's inception in 1999 and is the fifth Wabash player to be named to the web site's All-America team twice, joining CJ Gum (2010 and 2011), Wes Chamblee (2009 and 2011), Adrian Pynenberg (2005, 2006, and 2007), and Ryan Short (2001, 2002).
"My experience at Wabash College has been a true blessing from God," Buresh said. "The past four years of football I have enjoyed many unforgettable experiences and made friendships that will last forever.
"Wabash is a unique place where the support for whatever sport you play is felt. Being named an All-American for the second time is extremely special to me and quite an honor. I cannot take all of the credit though, our defensive line unit was phenomenal this year. It has been such a privilege having played with them and the entire team."
Buresh finished the 2014 season with 63 tackles, 21 tackles for losses, and 11 sacks. He ranked fourth in the nation in tackles for losses and ninth in sacks among Division III players. Buresh set the Wabash career record for sacks with 32 as well as yards from sacks with 222 and ranks second all-time in Wabash history in tackles for losses with 62. He completed his career ranked eighth in Wabash football history in total tackles (263).
Buresh, a co-captain for the Little Giants this season, was a key part of the Wabash defense that ranked first in team sacks (4.58 sacks per game) and rushing defense (66.3 yards per game), fourth in total defense (240.1 yards per game), and sixth in tackles for losses (9.9 per game). He was also named the 2014 North Coast Athletic Conference Defensive Player of the Year.
"Cody is one of the most explosive pass rushers I've ever had the privilege of coaching," Wabash head coach Erik Raeburn said. "As tremendous as he is on the field, he has been even more impressive off the field. He is a humble, high character leader and his leadership will make an impact on our program for years to come."
2014 D3football.com All-America Teams