Professors Granted Tenure
by Richard Paige • December 16, 2014

Share:
Wabash College President Gregory D. Hess and Dean of the College Scott E. Feller announced the promotion and tenure of three members of the faculty. Professors Christie Byun (economics), Jane Hardy (Spanish), and Walter Novak (chemistry) all successfully completed the tenure process and in July will assume the rank of associate professor at the 182-year-old liberal arts institution.
"Wabash College prides itself on exceptional teaching above all things, and these professors are thoughtful and engaging scholars who transform the lives of our students, one young man at a time," President Hess said.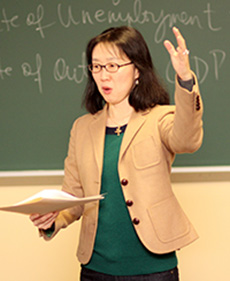 Dr. Byun joined the faculty in 2007 in the Economics Department after earning her master's degree and Ph.D. from the University of California, Riverside. She earned her undergraduate degree from the University of California, Berkeley, and served as a Visiting Assistant Professor at Rose-Hulman Institute of Technology in 2006-07.
"Wabash College is a unique place where faculty and students alike can learn and grow both inside and outside of the classroom," Byun said. "I'm always impressed by students' intellectual curiosity and their ability to creatively apply what they've learned in the classroom to the world beyond. This speaks to the power of the liberal arts education, to take you places you never expected to go. I'm gratified to be at such a great institution that supports liberal arts teaching and learning in all areas."
Byun's academic interests center on the theory of habit formation and how it influences household consumption, as well as environmental economics using the contingent valuation method, and free market environmentalism. Her recent course offerings include Principles of Economics, the Economic Approach with Microsoft Excel, Introduction to Econometrics, Economics and Public Policy, Introduction to Environmental Economics, Intermediate Macroeconomics, and a variety of seminar courses in addition to her Freshman Tutorial: The Economics of the Popular Music Industry.
She has taken students in her Environmental Economics course on an immersion trip across the state of Alaska. She is the co-chair of the Freshman Tutorial program and is an active author, presenter, and reviewer of scholarly research.
"Christie's teaching is characterized by high rigor and a commitment to student success," Dean Feller said. "Her scholarship is wide ranging, from the economics of popular music to natural resource use. This work has engaged students here in Montgomery County on the Sugar Creek watershed, as well as to Alaska to look first hand at the tradeoffs inherent in our engagement with nature. As Freshman Tutorial co-chair, Christie has demonstrated a capacity for leadership that will serve the College well."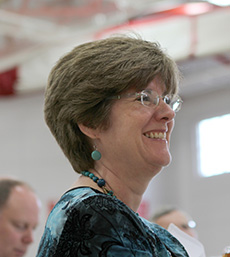 Dr. Hardy joined the faculty in the Modern Languages Department in 2006, having taught previously at Indiana University, St. Michael's College, the University of Ljubljana (Slovenia), and the Slovenian Ministry of Defense School of Foreign Languages. A graduate of the University of Virginia, where she earned a bachelor's degree in Spanish and French, Hardy earned her master's and Ph.D. in Linguistics from Indiana University.
"I am grateful to Wabash for the many opportunities it has afforded me for continued professional development, and I am also grateful to my colleagues in the Department of Modern Languages for their support and confidence," Hardy said. "Finally, I am grateful to my students for inspiring me to be the best teacher I can be. Wabash offers an incredibly stimulating and supportive environment for both students and faculty, and I consider myself extremely fortunate to be a part of this special place."
Hardy focuses on second language acquisition, language teaching methodology, and study abroad. Since 2008, she has accompanied Wabash students and faculty to Ecuador as part of the Wabash Summer Study in Ecuador Program, for which she serves as co-director. Her recent course offerings include Elementary and Intermediate Spanish and Hispanic Cultures, Introduction to Ecuador, Conversation and Composition, Survey of Spanish Linguistics, Modern Linguistics and Language Variation and Change, Methods of Modern Language Teaching in Middle and High School, and her Freshman Tutorial: We Are What We Speak: The Life and Death of Languages.
"Jane has achieved a synergy between teaching, research, and service to the College that few faculty can match," Feller said. "This is best exemplified in her commitment to study abroad and immersion learning where she has taken the Wabash classroom to Ecuador, further developed our exemplary program there, and returned to contribute to the scholarship on the pedagogical benefits of immersive experiences. Jane is a student-centered faculty member whom students praise for her caring, clarity, and organization."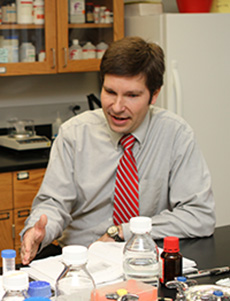 A member of the Wabash's Chemistry Department since 2009, Dr. Novak earned his Ph.D. in Chemistry and Chemical Biology from the University of California, San Francisco. He earned his undergraduate degree, summa cum laude, from Southern Illinois University, Edwardsville. He also served a National Institutes of Health Postdoctoral Fellowship at Brandeis University from 2004-09.
"With tenure comes the ability to think long term about my contributions to the College," Novak said. "I am thrilled to be able to continue my work with Enduring Questions and the safety committee, and I am looking forward to taking on more leadership roles within the department. Finally, I am proud to be a permanent member of Wabash College, and delighted with the prospect of engaging Wabash students for years to come."
Novak's expertise is in biochemistry, more specifically, the study of proteins found in pathogenic bacteria, particularly transcriptional regulators and small-molecule kinases. His recent course offerings include Introductory Chemistry, General Chemistry, Organic Chemistry I and II, Biochemistry, Special Topics in Biochemistry, and Advanced Biochemistry.
"Wally exemplifies the teacher-scholar model we strive for at Wabash," Feller said. "He is a teacher who embraces the liberal arts while simultaneously pushing our students to the cutting edge in biochemical knowledge. His work as a scholar has had an incredible impact on our students with over 25 Wabash men participating as collaborators in his research on the relationship between structure and function in protein molecules."
These promotions are effective July 1, 2015.