Little Giants Headed to Whitewater
by Jocelyn Hopkinson '15 • November 22, 2014

Share:
The Little Giant defense roughed up opposing quarterbacks all year. Franklin College quarterback Grant Welp learned that lesson Saturday. Six sacks and 11 quarterback hits propelled Wabash to a 33-14 victory.
"If it wasn't for the pressure, he would've thrown for 800 yards it felt like," Wabash Coach Erik Raeburn said. "He was just never missing on any of his throws when he could set his feet. I thought our pressure up front was critical."
Evan Rutter '15 led the Little Giants with two sacks while Cody Buresh '15 had six quarterback hits.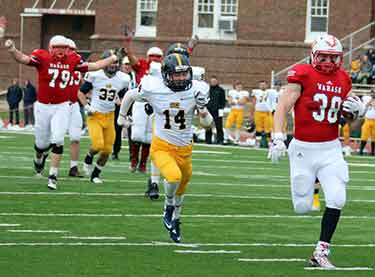 Much was made of the Grizzlies' passing offense, but the Little Giants' stout defense withstood the aerial assault. Franklin averaged over 40 points per game in the regular season and 480 yards. It gained 315 yards Saturday as Welp was held to 28-of-53 passing with a touchdown and an interception.
"When it got away from us point wise, we had to throw the ball quite a bit, which is tough under their pressure," Franklin Coach Mike Leonard said. "It's easy to say you have to throw quick and sprint away from pressure, but those things are easier said than done."
While the Grizzlies struggled somewhat with their bread-and-butter passing game, Wabash found success in a steady ground attack. Running backs Tyler Holmes '14 and Mason Zurek '16 rushed for 107 and 91 yards, respectively, and each found the end zone.
"In the first half, we ran the ball well but weren't making many plays in the passing game," Raeburn said. "In the second half, I thought we made a handful of plays in the passing game that really helped. They had a pretty good-sized defensive line and their linebacker had over 100 tackles this season. I felt like we would need some balance, but the only success we had in the first half was running it."
Seven of Wabash's first eight snaps were pass plays, but only two were completed. While the Little Giants struggled out of the gate, the Grizzlies roared on their first drive.
An eight-play, 83-yard drive ended in a short touchdown run, 7-0. Welp had success running the ball on the opening series.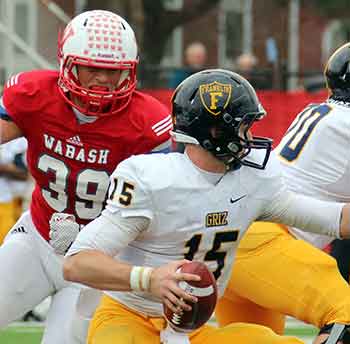 "We made some mistakes on the quarterback in the run game with our run fits," Raeburn said. "But our defensive coaches got that squared away and we settled down."
That quick Franklin score might have awakened the Little Giants. After a muffed punt pinned Franklin inside its own 10, linebacker Connor Karns '16 shot through the Grizzly offensive line and sacked Welp for a safety.
"Any time you can get some points on special teams or with your defense, those are big momentum swings," Raeburn said. "Certainly the safety was a big lift."
The Little Giants' offense joined the party late in the first quarter. Zurek burst up the middle untouched from 28 yards out, 9-7. Wabash wouldn't trail again.
The teams combined for 17 third-quarter points after a scoreless second. Wabash quarterback Michael Putko '16 scored on a seven-yard run, 16-7, following an Austin Brown '17 pick.
Andrew Tutsie '17 hit on a 24-yard field goal to give Wabash a 12-point lead, but Welp responded on the ensuing drive with a 33-yard scoring pass, 19-14, at the end of the third.
The fourth quarter was all Wabash. Sammy Adams '17 provided one of the day's best highlights with a leaping 16-yard catch, 26-14. Holmes sealed the victory with six-yard run.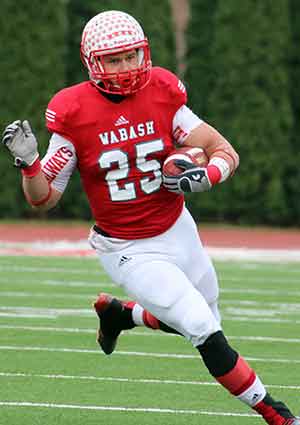 As the Little Giants found their offensive mojo, Franklin could not keep pace. The more Welp dropped back, the more he had to pick himself up off of Hollet Little Giant Stadium turf.
"Knowing that you only have to cover for two to three seconds instead of six to seven is huge," Houston Hodges '15 said. "Their receivers got away a couple of times, but the quarterback couldn't look down field. He was constantly worried about our guys running after him."
Hodges, a receiver, double-dipped at cornerback due to an injury to starter Justin Woods '16. Hodges played at corner for his first two years.
"When he was a freshman, we felt like he was one of the best corners in the league," Raeburn said. "With Franklin's passing attack, we thought we had to use Houston both ways. He's a tough guy and has been begging me to play both ways the whole season. I finally smartened up and did it."
Hodges didn't have many problems with the extra workload.
"I felt very comfortable going back to it," Hodges said. "Not very many calls have changed. It just kind of felt like I was going back to my old ways. It was tough because you never get to the sidelines to see what adjustments are being made. You catch those on the fly as you're running between series."
Hodges caught four passes for 21 yards and was second on defense with seven tackles.
Drake Christen '17 had 10 catches for 99 yards. Putko completed 13-of-20 passes for 139 yards and a score while Connor Rice '17 hit on 5-of-6 passes for 44 yards.
Delon Pettiford '17 made 11 tackles to lead Wabash. AJ Akinribade '15, Denzel Wilkins '15, and Ethan Buresh '17 also registered a sack.
Wabash will travel to defending national champion Wisconsin Whitewater Saturday for its second-round matchup.
More News
---
---
Photo Galleries

Football vs. Franklin 2014-2-TR

Football vs. Franklin 2014-1-TR

NCAA Playoffs: Wabash 33,, Franklin 14, No. 4

NCAA Playoffs: Wabash 33,, Franklin 14, No. 3

NCAA Playoffs: Wabash 33,, Franklin 14, No. 2

NCAA Playoffs: Wabash 33, Franklin 14