Cross Country Races to Championships
by Richard Paige • November 20, 2014

Share:
Walking zombies.
That's the way Coach Roger Busch '96 described his Wabash cross country team a year ago as it prepared for the NCAA Championships. Physically okay, but emotionally spent. It wasn't surprising that the Little Giants finished in 21st place.
What a difference a year makes as Wabash makes its fifth consecutive appearance at the national championship meet Saturday in Mason, Ohio, with a No. 13 national ranking and back-to-back North Coast Athletic Conference and Great Lakes Regional championships in its possession.
All it took was a slightly different approach. The collective goals were the same – conference and regional championships and a top-10 finish at nationals – but there would a little fun along the way.

"Collectively, we were fairly confident that we could take care of business, execute a consistent strategy, and make it to nationals," said Busch. "Now we talk about being emotionally invested as well."
The different approach really started last spring, and what was needed between then and now was mileage. Cross country is not a sport for fakers. At this point of the season, the guys near the top are the runners who have put in the time, effort, and miles to makes themselves great.
Seventy-, 80- and even 100-mile weeks were common, almost expected.
"This weekend represents a lot of the effort we've put in," explained Fabian House '16. "Coach knows that we've put in the work, and now he's encouraging us to now go out and enjoy it a little bit. That's an absurd thought. We're about to compete and run hard – it's inherently not fun – but he's encouraging us to enjoy it."
The emotional investment Busch sought is mainly with each other. Training together has formed a bond and a trust between 2014 Little Giants.
"Running well plays a role, but also having each other around is a huge part of it," Nick Boyce '15 said. "From day to day, it's not always enjoyable to wake up and run 10 miles, but when we are able to do it together and invest in each other and those relationships, it really makes it worthwhile."
The group that trains together finishes together. Over its last four races dating back to October 3, the Little Giants have seen all seven of its runners finish within 50 seconds of each other.
Such efforts also lead to individual accolades as all seven runners – Boyce, House, Jared Burris '15, Mason McKinney '17, Billy McManus '15, Colin Rinne '18, and Adam Togami '17 – earned both all-conference and all-region kudos. In fact, Wabash is one of just eight programs nationally, including only three men's programs, to have all seven runners be named to the all-region team.
Cross country is as much a tactical effort as a physical one, so running smart is essential. It's important to analyze the conditions and make adjustments on the move.
"I tell them to be a smart racer, so I leverage the fact that they are good students and that this is a great institution," Busch said. "You have to be smart."
And smart they are. The team grade point average hovers around 3.50. Four of the guys running Saturday are biology majors. Burris is a philosophy major and House is a double major in English and political science.
Further, two runners in the team's top eight — McManus and Ryan Horner '15 — are Dean's List students with big dreams following graduation in the spring. McManus hopes to enter the M.D.-Ph.D. program at Harvard, while Horner hopes to pursue post-graduate degrees in English at Columbia. Fellow senior Boyce spent the summer doing field research on trees in the Allee Memorial Forest.
McManus credits his running for helping him to be a better student. The physical exertion is a nice balance to the rigors of the lab or classroom.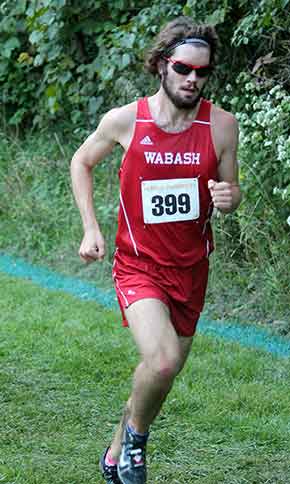 "I would not be as good of a student if I didn't have running," said the biology major from Fort Wayne, Ind. "Four to seven every day is the time to lay the books aside and get the physical work done and hang out with your friends. By the time you get back in the evening, you are rested and rejuvenated and able to focus back in on it. It's made all the difference for me."
That sentiment is echoed by Busch, who has seen his charges grow in many ways.
"Their parents should be extremely proud of who they are because they are good runners, they are great students, and most importantly, they are good human beings," said Busch, who has won Great Lakes Region Coach of the Year honors three times in the last five years. "From the mission of the College, we are putting great citizens out there."
Wabash makes its 15th appearance at the NCAA championship meet Saturday. Only 25 other schools nationally have made as many appearances, firmly entrenching Wabash among the Division III elite. This season, the Little Giants have been the top-finishing DIII team in four of six meets with the lineup that will run this weekend.
The proof in the performance has helped with the collective confidence.
Walking zombies no more.
"We've developed a level of confidence in ourselves and in our ability to perform in big meets," said Togami. "We've come to expect all of us to perform at a high level. We feel rested and ready to race this weekend."

The race plan goes something like this: be smart early and run with heart late. Positioning is important in the first two or three miles, while ensuring your teammates are still engaged. Over the last four or five miles, it's all about heart.
"You just throw everything out the window and race off of emotion," Busch said. "That will be enormous for us on Saturday."
Much like the rest of the squad, Burris has been looking toward Saturday for a long time.
"From May until now, this is the one day we've trained for specifically," Burris concluded. "I think we are ready to put it out there and do something special as a team. I feel good."
Time to enjoy one more run together.