Runners Dominate NCAC Title Run
by Brent Harris • November 1, 2014

Share:
The Wabash cross country team dominated the 2014 North Coast Athletic Conference championship race, capturing its second straight men's title and third in the past four seasons.
All seven runners earned All-NCAC honors by virtue of their top-21 finishes, while head coach Roger Busch earned Men's Coach of the Year honors once again.
The Little Giants, favorites in the coaches' pre-championship poll, performed as expected. Wabash won with a total of 28 points. Ohio Wesleyan finished a distant second with 90 points. Oberlin took third place (108), followed by DePauw (113), Allegheny (120), Wooster (142), Denison (149), Kenyon (203), Wittenberg (225), and Hiram (330).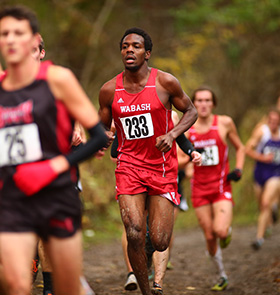 Fabian House earned First Team All-NCAC honors with a third-place finish after crossing the line in 26:36.6 just 4.7 seconds behind individual champion Logan Steiner from Allegheny (26:31.9). Adam Togami joined House as a First Team All-NCAC performer with his fourth-place finish (26:44.7). Nick Boyce and Mason McKinney also earned First Team honors. Boyce crossed the line in 26:53.1 for sixth place. McKinney, the 2013 NCAC Newcomer of the Year, finished seventh at 26:57.0. Billy McManus scored the final team points for the Little Giants with his eighth-place effort (26:58.8) to earn Second Team All-NCAC honors.
The final two runners for Wabash also snared All-NCAC recognition. Jared Burris finish 13th with a time of 27:03.5, joining McManus on the Second Team listing. Freshman Colin Rinne snared an Honorable Mention All-NCAC award with his 21st-place finish after crossing the line in 27:26.7.
The total gap time between House and McManus was 22 seconds. The final gap from House to Rinne was 50 seconds.
Wabash won its first NCAC men's cross country title in 2011. The Little Giants added its second title in 2013.
The Little Giants will have the opportunity to defend another title in two weeks. Wabash captured its first NCAA Regional championship last year, ending a string of 17 consecutive victories by Calvin College. The 2014 Great Lakes Regional will take place Saturday, November 15 at the Golf Center of Kings Island with Wilmington College serving as the host school. The 2014 NCAA National Championship event will also take place at the Golf Center on November 22.
More News
---
---
Photo Galleries

2014 NCAC Cross Country Championship