Szczeszak-Brewer to Give LaFollette Lecture on Friday
• September 30, 2014

Share: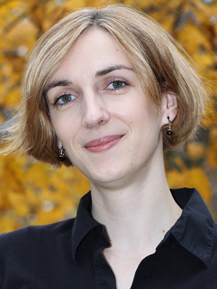 Wabash College Associate Professor of English Agata Szczeszak-Brewer will present the 35th Annual LaFollette Lecture at 4:15 p.m. on Friday, October 3 in Salter Hall in the Fine Arts Center.
Szczeszak-Brewer's talk is titled, "Itinerant Humanities: Learning from James Joyce's Voluntary Exile."
Szczeszak-Brewer came to the United States from Poland as a Rotary Foundation Ambassadorial Scholar in 2002 and later completed her PhD at the University of South Carolina. In 2006 she took the position of Byron K. Trippet Assistant Professor of English at Wabash, where she teaches courses on James Joyce, 20th-century British and Irish Literature, and Postcolonial Literature, among others. She is the author of Empire and Pilgrimage in Conrad and Joyce (University Press of Florida, 2010) and the recipient of the Bruce Harkness Young Conrad Scholar Award for 2007.
The LaFollette Lecture Series was established by the Wabash College Board of Trustees to honor Charles D. LaFollette, their longtime colleague on the Board. The lecture is given each year by a Wabash faculty member who is charged to address the relation of his or her special discipline to the humanities, broadly conceived.
The lecture is free and open to the public; a reception will follow her talk.