Monon Bell Tickets On Sale Now
by Brent Harris • September 30, 2014

Share:
Tickets for the 121st Monon Bell Classic between Wabash College and DePauw University are on sale now in the Bookstore.
Tickets for the Wabash College side of Hollett Little Giant Stadium will be sold in the Bookstore during regular business hours, including home football Saturdays. Tickets may also be purchased online through the Bookstore web site.
Tickets are $20 each, and every person attending the game must have a ticket regardless of age. Tickets purchased online will be available at the will call window on game day. An additional shipping charge will be added to the total purchase for requests to mail the tickets to the purchaser prior to game day.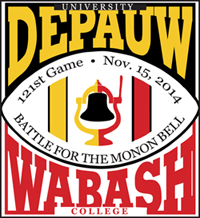 Wabash students, faculty, and staff may pick up their free game tickets beginning during regular bookstore business hours, as well. Each student will receive one free ticket, and those will be set aside until Monday, November 3. At that time student tickets will be returned to general sale. Students need to pick up their ticket prior to November 3. Students may still get a free ticket after November 3 only if any remain available. Each faculty and staff member will receive a free ticket for each member of their family with a Wabash ID or Wabash pass. Students, faculty, or staff needing additional tickets may purchase them during regular business hours or online.
Alumni who are "W" pass holders may contact the Bookstore either in person or by calling 765-361-6271 to make arrangements to receive their free ticket. Each "W" pass holder receives one ticket only and must purchase any additional tickets needed for the remainder of their party.
Wabash and DePauw will meet for the 121st time on Saturday, November 15 at 1 p.m. on Sewell Field at Hollett Little Giant Stadium. The Little Giants lead the series 58-53-9, making it the closest rivalry played more than 50 times than any other in the nation. Last year Wabash won its fifth consecutive Monon Bell title with a 38-21 victory in Greencastle.