At the Heart of Liberal Arts Success
by Richard Paige • September 26, 2014

Share:
Are you willing to answer the tough questions? Do you want to improve?
Over the last decade, the Center of Inquiry in the Liberal Arts (CILA) at Wabash College has engaged in a longitudinal study of over 17,000 students at more than 49 institutions nationwide in an effort to strengthen liberal arts education.
Fortunately, the answer to both questions is a resounding yes, and the data generated will continue to enlighten educators for years to come.
"The Center's work and accomplishments in evidentiary-based scholarship has truly made a difference in the national conversation on the benefits of liberal arts education and the efforts to make it that much better," said Gregory D. Hess, president of Wabash College.
CILA's mission is to collaborate with institutions to use evidence gathered in the Wabash National Study (WNS) to strengthen liberal arts education for all students, providing an educational toolbox that includes critical thinking, moral reasoning, civic engagement, intellectual curiosity, leadership, and a commitment to engaging with diverse people and ideas.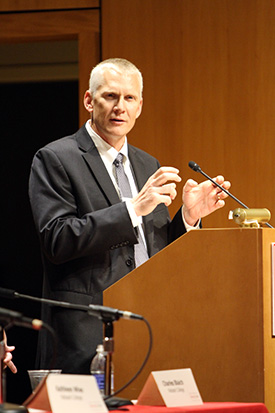 Additionally, CILA works directly with institutions to facilitate good teaching practices on each individual campus.
Under the leadership of director Charles Blaich and associate director Kathleen Wise, the focus is on using evidence to identify what works best. The Center works with real data — not the glowing postcards from alumni or feedback gleaned from the occasional class evaluation.
The Center of Inquiry uses data generated from those 17,000 students during their entire college experience, running the gamut from the smallest liberal arts colleges to the largest state schools.
"We focus on using evidence," explained Wise. "This means working with institutions so they don't just rely on their gut to tell them things are going well. We gather and make sense of real evidence about the extent to which our courses, our programs, and our majors are changing students in the way that we hope."
CILA continually integrates its findings into its work with institutions. From the beginning, the Center has sponsored, partnered, and participated in developing and analyzing research on the best practices of the liberal arts and taking those findings directly to campuses.
Some of those efforts included working with the National Survey of Student Engagement on D.E.E.P. (Documenting Effective Educational Practices), and with the Carnegie Foundation for the Advancement of Teaching on the scholarship of teaching and learning.
"We literally work with researchers, get findings, analyze data, and walk out the door to work with campuses about what we've found and how that's relevant to their work with students," said Blaich.
The Center's work is modeled after the best of liberal arts classrooms – think seminars and discovery learning in the sciences – where conversation, reflection, and self-critical inquiry is encouraged.
That can lead to the aforementioned difficult questions and the inevitable answers that follow.
"It means finding and talking about things that may not be consistent with marketing materials and all that information on websites," Wise said. "In our experience, asking hard questions is the only way to get better."
By following so many students in different campus settings, the WNS allowed researchers to collect data about the entirety of the college experience and how factors previously believed to be outside of the classroom may affect learning.
There were three bedrock findings. First, student learning is based on good teaching. There has to be faculty and staff interested in teaching and student development outside of the classroom and academic areas. Classes should be organized, coherent, and build upon one another.
Second, engaged students expect to be challenged and thrive under high expectations. How much time is spent on task? Are students asked to synthesize or make judgments? Are we providing higher order intellectual activities?
Third, there should be meaningful interactions with diversity. Exposure to people, beliefs, and ideas that are different from those students are accustomed to.
"These are findings that good teachers have known about for hundreds or even thousands of years," Blaich said.
What's new within the findings is the realization of the extent to which students see commitment from faculty and staff is the true driving force. Students look for signs of care and commitment, a human connection, in their educational pursuits. Pedagogy is a sign of caring.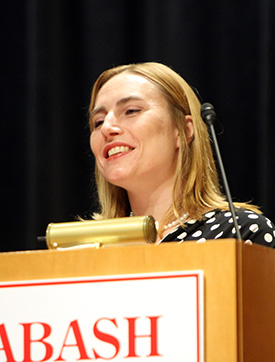 These good practices had an impact on growth and development across a wide range of educational goals. The WNS measured 13 different learning outcomes and the three good practices positively impacted the vast majority of those outcomes. For example, interactional diversity also led to growth in moral reasoning and intellectual curiosity, while good teaching also led to gains in diversity, leadership, and interest in reading and writing.
Further, these gains were seen across the board, meaning that good practices matter far more than institutional reputation.
"When it comes to student learning, the question is not what type of institution a student attends, but rather how often do students encounter these good practices," said Wise.
Undoubtedly, good teaching is at the heart of an effective liberal arts education. The focus now should turn to making it more pervasive on campuses.
"We've just got to do these things," said Bob Connor, senior advisor and former president of the Teagle Foundation. "We've got to make sure that these opportunities are disproportionately present on our campuses."
To do that, consistency of high quality teaching needs to improve so that students discover good practices often and throughout campus. Paramount within that is connecting the teaching with the scholarship.
"They (teaching and scholarship) are truly synergistic," said Blaich. "Scholarly work really does pay off in the classroom in powerful ways."
After more than a decade of work, the question becomes: where do we go from here? That subject was addressed by Clay Robbins, president and C.E.O. of Lilly Endowment, in his welcome address.
"What does the research say about the employability of liberal arts graduates," he asked? "Is more research needed? What can colleges do differently to address this issue and what should interested funders do? How can the case for a liberal arts education be communicated better to students who are concerned about making a living, and how can this case be made more convincingly to their parents?"