Leadership and the Liberal Arts
• September 25, 2014

Share:
Liberal arts colleges provide the right environment for honing leadership skills because they teach students assimilate vast amounts of information, critically analyze it, and communicate broadly, all while exercising judgment.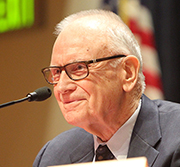 A panel consisting of long-time U.S. Congressman Lee Hamilton, Cook Medical Group CEO Steve Ferguson, Wabash College President Gregory Hess, and the City of Detroit's Senior Advisor David Woessner shared their experiences as graduates of liberal arts colleges. The panel on leadership and the liberal arts was part of the conference, "Celebrating the Value of Liberal Arts Education," sponsored by Wabash College and the Center of Inquiry in the Liberal Arts.
"I think liberal arts education is phenomenally important," said Hamilton, who graduated from DePauw University. "I think it's practical, and I think it leads to good employment, promotion, and leadership positions in all kinds of organizations."
Good leaders, Hamilton said, need much more than technical skills. "What impresses me is that these leaders have skills that are at the heart of the liberal arts education, including the ability to think critically, reason analytically, and learn continuously. They need a willingness to solve problems, [which require] certain personality traits like curiosity, flexibility, adaptability, creativity and innovation."
Hamilton argued that personality traits like curiosity, flexibility, adaptability, creativity, and innovation form the basis of strong leadership skills. "Good leaders have the ability to see the big picture; to understand the context within which a problem and a solution arises; and can separate the important from the trivial."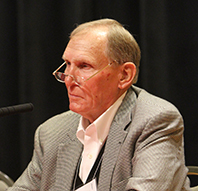 Ferguson, a Bloomington native, majored in political science at Wabash College before earning a law degree at Indiana University. He said he never saw himself as a leader, but eventually he was urged to serve as an officer in his fraternity. While still a law student, he ran for and was elected to the Indiana Statehouse. People saw in him traits of leadership, including Bill Cook, founder of Cook Medical Group, who convinced Ferguson to join him in the early 1990s.
Critical to his success — and the rapid and sustained growth of the company — were skills he learned as an undergraduate: a continuous desire to learn new things and the ability to effectively communicate with others.
"You need to be able to communicate and need to be able to communicate in a way that people respect because what you're trying to do is generate energies for a common goal," Ferguson said. "You also have to be sensitive and aware of each individual and aware of the impact on them; you have to know where they are and what they're doing in their lives. You must have awareness."
A football player who was raised on a farm and majored in political science, Ferguson never imagined that he would lead one of Indiana's largest medical device and bio-tech companies.
"A good leader obviously has to have expertise and that maybe expertise in a lot of things," he said. "I know more about medicine than ever thought. But if I go back and think about [my education] — political science, religion, biology, physics, chemistry — I have used all of them in my career to learn new paths. You also have to have a commitment to prepare for whatever your job is, to learn that and learn it well."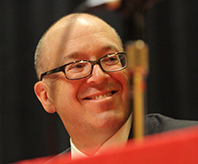 Hess came at the question of how liberal arts colleges foster leadership development from the perspective of a college president. He noted the research conducted by the Center of Inquiry through the Wabash National Study of Liberal Arts Education. "We can see evidence that the Center has championed throughout the years — empirical evidence — that liberal arts colleges can provide a good broad-based education that improves higher levels of critical thinking, the ability to be engaged, the ability to have an understanding."
Hess said that these things just don't happen by themselves. He argued that liberal arts colleges — through their focus on excellent teaching, high expectations, and leadership development — have advantages over other institutions.
"One of the things that liberal arts colleges do that I think most other institutions have a much harder time doing, is we actually provide students with a compass, basically an ethical compass, that becomes a timeless narrative that helps shape their lives," said Hess, who spent 10 years at Claremont McKenna College as a member of the faculty and as Vice President and Dean of the Faculty. "We are focused very implicitly on whole student formation and ethical leadership training. In liberal arts colleges there is a kind of cultural arbitrage that's working that I think not only forces students to interact with others, but also allows them to think about the narrative of who they want to be in an ethical framework."
Hess said that the moral "compass" joins with three other C's that make liberal arts colleges stand out: Challenge, Conflict, and Compassion.
"Liberal arts education needs to be challenging; it needs to be tough," Hess said. "Life is tough, and you are not preparing young students if you provide an education that does not make them strive. It needs to be confrontational. Education is in part a contact sport. You have to expose students to perspectives, cultures, and thoughts that force them to reconsider their long held beliefs and ideas, and you need to force them to interact with peers. You also have to provide a compassionate environment for them. You have to connect students to a community of scholars, peers, staff, alumni, and fellow travelers, who while challenging them, also support them."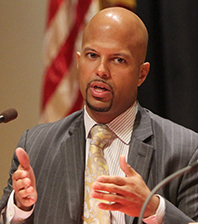 David Woessner, the youngest of the panelists, puts his liberal arts education into action every day as a Senior Advisor for Jobs and the Economy for Detroit Mayor Michael Duggan. A German-born, Indiana-raised physics major at Wabash College, Woessner also earned a master's degree in engineering at Georgia Tech. His hybrid education — liberal arts and engineering — has served him in a wide-ranging career in international consulting and business development.
To Woessner, a good leader must first lead by example. "Leading is doing," he said. "[My liberal arts education] fostered individual responsibility and trust, which I think is key to leadership, as well as key to teamwork. Because at the end of the day, teamwork requires honesty, trust, and support in order to get things done."
Woessner echoed Ferguson's notion that leaders must have an unquenchable thirst for learning, which he said was developed in him as an undergraduate. "Leadership is about discipline, and discipline to be excellent. It's about drive for knowledge, fact?based knowledge, and it's about, in my opinion, delightfulness. Those are the things that liberal arts colleges must continue to do."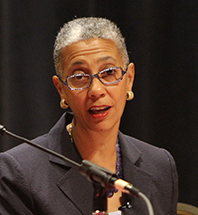 Panel moderator Alecia DeCoudreuax, a Wellesley graduate, long-time executive with Eli Lilly and Company, and currently the President of Mills College, agreed with the sentiments of the panelists and the need for liberal arts colleges to thrive in the future.
"I am truly an advocate of the liberal arts," DeCoudreaux said. "I am a product of a liberal arts undergraduate education. I am a president of a liberal arts college. I would not have left a fabulous career at Eli Lilly and Company to be a president of a liberal arts college if I were not a strong believer in the liberal arts, if I hadn't seen firsthand the value of that education in my own career."
But she said, as a college president, she has a hard time convincing parents and prospective students of the lifelong value of liberal arts education at a time when the media and general public are clamoring for skills-based, job-centric education.
"It's fine for us to talk about making sure that we produce good citizens, it's fine for us to think about the moral compass and all of the wonderful attributes that we think are important in a liberal arts education. At the same time I believe we also have to think about how we prepare students for what I call the world of work."
Ferguson said that he thinks the liberal arts has a marketing problem, plain and simple, but he also believes that the attributes of liberally educated citizens provide ample opportunities to solve the problem.
"I think the leadership [requires you] to get out and relate to your customers," Ferguson said. "You've got to understand your customer. You've got to understand the world around you. You've got to understand your relationships with your employees and you've got to have a broad knowledge so you can see what's coming
"I think people need to understand what the liberal arts education is about, why it's the best way to go, and why it's important. You need to have alumni out selling it."
Hamilton addressed the liberal arts marketing problem a little differently. "Ask parents what skills they want their children to have. Do you want them to be able to work cooperatively with others? Do you want them to be able to communicate? Do you want them to be a lifelong learner and so forth?
"And I bet the parents will answer that question and strengthen your case."