The Riches of the Liberal Arts
by Steve Charles • September 25, 2014

Share:
Liberal arts colleges "want to make their students rich" and "need to challenge notions of what richness is," Teagle Foundation Senior Advisor and former President Bob Connor told attendees at the final presentation of Celebrating the Value of a Liberal Arts Education, a national conference hosted in Indianapolis by Wabash College and the Center of Inquiry in the Liberal Arts.
His colleagues on the panel—a tech entrepreneur, an administrator of "genius grants," and the former CEO of a literacy non-profit—spent the next hour divulging those riches and exploring how they might reach more of today's students.
Connor urged liberal arts colleges to embrace their role as "the yeast within the loaf—places where ferment can and should be taking place, where re-thinking can go on." He said the rhetoric surrounding the value of the liberal arts too often falls to the wrong question: "Will it get you a job?"
"Every time we use that language, we encourage parents and students to think that's what really matters, what we're really looking for in higher education," said Connor, whose non-profit foundation strives to be a catalyst for change in higher education. "I suggest we flip that rhetoric on its head: Next time someone asks about 'return on investment,' say that we not only want our students to have jobs and careers—we want to make them rich.
"And we want to challenge the notions about what richness is. We want to look for ways in which our students can enjoy not just income, but genuine satisfaction in their work, in their participation in their communities, and in their lifelong learning."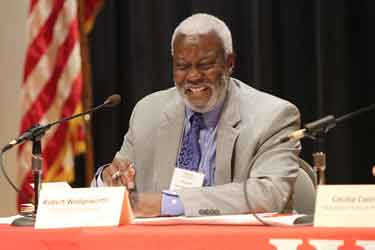 Panel moderator and retired CEO of ProLiteracy Worldwide Robert Wedgeworth recalled his own liberal arts education at Wabash College.
"I had the opportunity to explore all that I was interested in—I was like a 16th century explorer in the vast world of information and knowledge."
"I love the analogy of being explorers," said MacArthur Foundation Vice President Cecilia Conrad. "Our students are explorers, and that's something we should celebrate about the liberal arts."
"We're too often on the defensive when we talk about the liberal arts," said Apparatus founder and CEO Kelly Pfledderer. "I don't know that we need to change the curriculum, but how about helping students find the connections they need, giving them some optimism and a little swagger in their step that says they can go do what they want to do?"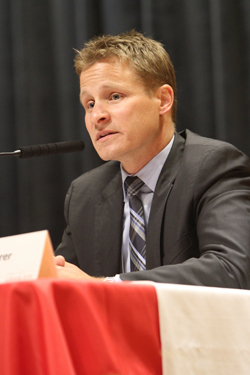 Pfledderer has that swagger as the leader of a firm on Inc. magazine's list of the nation's fastest growing companies for six years running, and he believes his liberal arts education was essential preparation and is a continuing inspiration for his company.
"When I first started I was by myself for a year working out of my house," said Pfledderer, who was a German major/biology minor at Wabash. "I was the technical guy, I was the accountant, I was human resources, I was the sales guy, I took out the trash. I can't imagine having studied only one discipline and being able to do all that."
Founded in 1999, Apparatus now has 163 employees, with 75 of those added the past three years.
"We hire a lot of liberal arts graduates," Pfledderer said. "There are a lot of people who rise to the top not knowing exactly what they wanted to do, but they've got this education in the liberal arts, they tend to be very good communicators, more outgoing people, more engaged with the office, our partners, and our customers.
"Teaching everyone a little bit of coding could be useful, but I'm not sure I want a company full of coders. It would be a tough go for me to run a technology company without people from the humanities."

The conference coincided with the announcement of this year's MacArthur Fellows, and as that program's vice president, Conrad noted that liberal arts graduates are overrepresented among those receiving the awards, often referred to as "Genius Grants."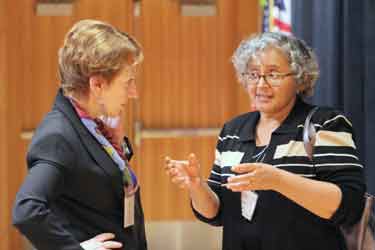 "This week we announced the first class of MacArthur Fellows since I've been working at the foundation," said Conrad. "One of the things that stands out immediately is graduates of liberal arts colleges are overrepresented among the fellows."
Conrad observed while only about 3% of students nationwide attend liberal arts colleges for their undergraduate degree, 26% of the MacArthur Fellows since the program began have been graduates of liberal arts colleges. Conrad suggested the most likely cause for this is "a particular kind of liberal arts education.
"This liberal arts education has strong one-on-one interactions with faculty, where faculty plays an important part in influencing students. There is a residential component and participation in an intellectual community.
"There is considerable alignment between goals of a liberal arts education and what we understand to be necessary for creativity. First of all, you need competency in a wide range of disciplines, and advanced competency in more than one field. You need exposure to diverse perspectives, methodologies, or approaches to the concept of evidence. You need the ability to make connections that pose new questions across disciplinary fields. You need some unconstrained time, but not too much of it. You need critical thinking skills to identify what ideas are worth pursuing, and you need diligence and persistence."
All these are goals of a liberal arts education.
Conrad said liberal arts colleges may better nurture "fruitful asynchrony," referring to psychologist Howard Gardner's idea that a certain amount of discord or asynchrony is required to activate and sustain the creative process.
"Liberal arts colleges may not consciously teach creativity, but we may tolerate asynchrony more than other institutional types, and perhaps encourage it.
"So the opportunity exists to build on the trend—to emphasize creative thinking as an outcome of liberal arts education."
"[As liberal arts institutions, we need to model creative thinking. Institutions should ask themselves: How is risk-taking rewarded or penalized on our campuses? Is experimentation and innovation prized? More importantly, is it understood that failure is not fatal?
"Creativity needs to express itself in every discipline, it needs to be part of our essence.
"The emphasis on creativity is important for economic reasons. The U.S. competitive advantage has been in creative thinking. The jobs that can't be exported from the U.S. tend to have high creative thinking as part of them, so there's a real connection between the economics and liberal arts colleges and creative thinking."
Conrad recalled that during her tenure at Pomona College the institution was often visited by Asian leaders searching for ways to encourage more creative thinking in their own students.
"They saw that the reputation Asian institutions had for not being innovative as being directly linked to the absence of [liberal arts colleges].
Pfledderer said that taking risks was essential for entrepreneurs.
"I'm a super risk taker—I think you can teach a lot of skills that would be helpful for future entrepreneurs, but I also think a lot of people just aren't going to try it, and I think that's unfortunate."
Connor agreed that a willingness to take risks and seeing failure as part of the growth process are important.
"But so is validating the effort, encouraging students to try it, letting them know, 'We're behind you.'"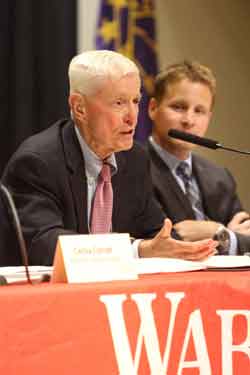 Turning to the work of The Center of Inquiry in the Liberal Arts, Connor credited its staff and studies for identifying and encouraging best practices in teaching.
"The Center has been a huge benefit, not only for private liberals arts college, but, much more broadly, for higher education.
"The Teagle Foundation was a small contributor to what Lilly Foundation and others contributed to on a much larger scale, but I think it is one of the best investments that Foundation has made."
Connor noted that the Center's research revealed excellent teaching practices in liberal arts colleges, but also in large universities and community colleges, as well. He suggested parents and prospective students look carefully at the mission of colleges and universities.
"You're much more likely to encounter the best practices at an institution whose mission publicly states its commitment to this kind of teaching and support. This evidence is around. We should not be shy about citing it."
Connor said that liberal arts colleges strive to make themselves the gold standard of good teaching.
"Thanks to the Center, I think we know what those best practices are, and the challenge for the future seems to be, above all, to go back to our campuses, point out what we've learned from the Center and other sources, and say, 'Look we've just got to do these things. We've got to make sure that these opportunities are disproportionately present on our campuses.'
"The challenge for the future is to help more of our students [take advantage of those] to the maximum possible extent."
And in doing so, empower them to redefine what it means to be rich.