Wabash Wins Little State CC Title
by Brent Harris • September 19, 2014

Share:
The Wabash cross country team placed six runners in the top-10 Friday evening to capture the 2014 Indiana Intercollegiate "Little State" title.
The team title is the third for the Little Giants in the past five seasons. Wabash captured "Little State" crowns in 2013 and 2010.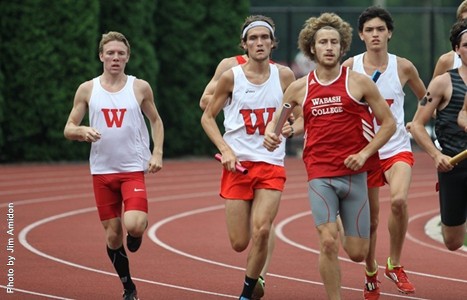 Jared Burris was the individual champion among the non-Division I runners. He finished the 8,000-meter course with a time of 26:01.6, which was also good for 17th place overall. Adam Togami captured fourth place by finishing in 26:16.0. Nick Boyce crossed the finish line two spots back in sixth at 26:27.2. Mason McKinney trailed Boyce by less than a second, finishing seventh at 26:28.1. Fabian House produced the final team points with an eighth-place finishing time of 26:30.5.
Billy McManus added a ninth-place finish with a time of 26:40.6. Collin Ginebaugh turned in the final placing for Wabash, finishing 24th in the field of 150 "Little State" competitors with a time of 27:08.1. The seven-man group finished with a gap time of 1:06 seconds overall and just 29 seconds among the team scorers.
The Little Giants finished with a total of 26 points. The University of Indianapolis took second place with 46 points, followed by Indiana Tech in third (104 points), Taylor in fourth (138), and DePauw in fifth place (183).
Freshman Colin Rinne provided the top finish among Wabash runners competing in the men's open 8,000 earlier in the afternoon at the Purdue University Cross Country course. Rinne placed 20th in the field of 160 runners by crossing the line in 26:47.7.
Wabash will compete at the NCAA Pre-Nationals in Mason, Ohio next Saturday. The race will take place at the Golf Center at Kings Island, site of the 2014 NCAA Championship meet.
2014 Indiana Intercollegiates Men's Championship Results (pdf)
2014 Indiana Intercollegiates Men's Open Results (pdf)