Akropolis Reed Quintet Perform Sunday
• September 18, 2014

Share: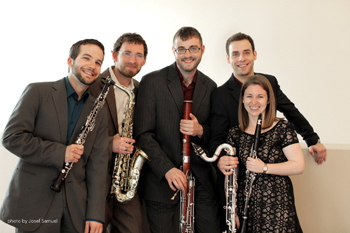 The winners of the Fischoff Competition Wind Division, Akropolis Reed Quintet, will perform at Wabash College on Sunday, September 21 at 8 p.m. in Salter Hall in the Fine Arts Center on the Wabash College campus.
Described as playing with "imagination, infallible musicality, and huge vitality" (Fanfare Magazine), the Akropolis Reed Quintet is a cutting edge ensemble that performs an innovative, living repertoire with acclaimed precision. Akropolis' dynamic concerts feature modern compositions framed by invigorating arrangements of classical music spanning four centuries. Founded in 2009, Akropolis took Grand Prize at the MTNA and Plowman chamber music competitions consecutively in 2011, and in 2012 they were Runner-up at the Yellow Springs National Chamber Music Competition, Silver Medalist at the Fischoff Competition, and Bronze Medalist at the International Chamber Music Competition held at the New England Conservatory. Championing the next generation of maverick musicians, Akropolis is also winner of the 2015 Fischoff Educator Award.
Their Sunday evening program will consist of music of Debussy, Ives, Gershwin, Zare, McCarthy, and ter Doest.
The Visiting Artist Series is funded in part by the Tippecanoe Arts Federation, the Indiana Arts Commission, and the National Endowment for the Arts.
Seating for Visiting Artists Series events is by general admission, though free tickets are required.
Contact the Fine Arts Center Box Office by email at boxoffice@wabash.edu; or phone: 765-361-6411. The box office will open 90 minutes before curtain time for Visiting Artists events. Tickets not claimed at the Box Office 10 minutes prior to curtain will be released to the general public.