Center Hosts Liberal Arts Conference
by Richard Paige • September 12, 2014

Share:
Wabash College and the Center of Inquiry in the Liberal Arts (CILA) will host a national conference spotlighting the impacts and positive outcomes of a liberal arts education on Wednesday, Sept. 17, at the Indiana State Museum in Indianapolis.
The conference, "Celebrating the Value of a Liberal Arts Education," features a roll of nationally acclaimed speakers who will present on topics ranging from leadership to entrepreneurship. The conference will feature five college presidents, including Wabash's Gregory D. Hess, and leaders from higher education, business, law, medicine, and politics. Representatives from five influential foundations that are strongly connected to higher education will also participate, including Clay Robbins, Lilly Endowment; Robert Connor, Teagle Foundation; Cecilia Conrad, MacArthur Foundation; Arthur Levine, Woodrow Wilson Foundation; and Earl Lewis, Andrew W. Mellon Foundation.
Angie Hicks Bowman, co-founder of Angie's List, will deliver a luncheon keynote address, while Lewis, the President of the Mellon Foundation, will deliver the keynote at the event's dinner.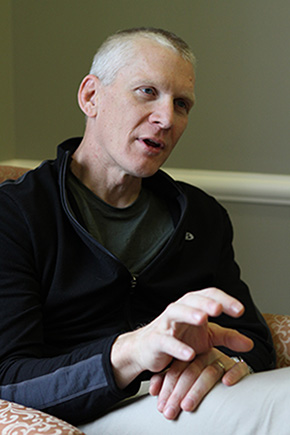 The conference also will focus on the findings of the Wabash National Study of Liberal Arts Education, a long-term study of educational processes and learning outcomes that covered more than 17,000 students at 49 colleges and universities since 2005, and recent efforts of the CILA.
"Today's economy forces students and parents to think carefully about the investment they are making in college," said Charles Blaich, CILA director. "It's important to keep in mind that college helps students prepare not only for future careers, but everything they do after college. College is the environment where students develop the knowledge, skills, and connections to take into the real world. This kind of education for life is called liberal arts education."
The study is the result of nearly 10 years of surveys and in-depth interviews with more than 17,000 students across 49 colleges and universities. Surveys were administered to students throughout their college experience, including before their matriculation. The Wabash National Study not only sought to identify experiences that are most beneficial to students but also helps schools to improve their programs, enhance student achievement, and foster desirable student outcomes.
Registration begins at 8 a.m. with morning panel discussion sessions starting at 9:15 in the Indiana State Museum's White Auditorium. A detailed schedule follows below.
For additional conference information, please go to http://www.liberalarts.wabash.edu/lae-conference-welcome/. The Indiana State Museum is located at 650 West Washington Street in Indianapolis.

Celebrating the Value of a Liberal Arts Education
Sept. 17, 2014
Schedule of Events
8-9 a.m.
Registration and Light Breakfast
9-9:15 a.m.
Liberal Arts Education: Essential for the Future
Introductory remarks from Gregory D. Hess, President of Wabash College, and Clay Robbins, President and CEO of Lilly Endowment Inc.
9:15-10:45 a.m.
Leadership
Chair: Alecia A. DeCoudreaux, President of Mills College
How did each panelist benefit from the liberal arts for developing leadership skills, and how would each change liberal arts education to make it more effective?
Panelists: Stephen L. Ferguson, Chairman of Cook Group Incorporated; Lee H. Hamilton, Director of the Center on Congress at Indiana University and former United States Congressman; Gregory D. Hess, President of Wabash College; David C. Woessner, Senior Advisor, Jobs and the Economy for the City of Detroit Mayor's Office.
11a.m.-12:15 p.m.
Ethics and Working in a Diverse World
Chair: Bob Grand, Managing Partner of Barnes & Thornburg LLP
How did each panelist develop a deeper sense of ethics and the capacity to work effectively in a diverse world, and how would each change liberal arts education to make it more effective?
Panelists: Leon Botstein, President of Bard College; Bobby Schnabel, Dean of the School of Informatics and Computing at Indiana University; David N. Shane, retired CEO of LDI, Ltd., LLC.
12:30-2:00 p.m.
Keynote and Luncheon: The Value of Liberal Arts Education
Angie Hicks, Co-Founder and Chief Marketing Officer of Angie's List
Introduced by Brian Casey, President of DePauw University
2:15-3:30 p.m.
Innovation and Lifelong Learning
Chair: Arthur Levine, President of the Woodrow Wilson Foundation
How did the liberal arts aid in developing a capacity to innovate and engage in lifelong learning?
Panelists: Elizabeth A. Dinndorf, President of Columbia College; Richard B. Gunderman, Chancellor's Professor of Radiology, Pediatrics, Medical Education, Philosophy, Liberal Arts, Philanthropy, and Medical Humanities and Health Studies at Indiana University; Donna Heiland, Vice President of Emerson College.
3:45-4:15 p.m.
Making Good on the Promise of the Liberal Arts
Presenters will review the findings from the Center of Inquiry's research on liberal arts education, connect those findings with previous discussions from the day, highlight strengths, and suggest changes to improve the efficacy of liberal arts education.
Panelists: Charles Blaich, Director, and Kathleen Wise, Associate Director, both of the Center of Inquiry
4:30-5:45 p.m.
Opportunities for the Future
Chair: Robert Wedgeworth, Jr., former Dean of Columbia University School of Library Science and retired CEO of Pro-Literacy Worldwide
Taking into account the conversations of the day and panelists' experiences, what must change and what must be preserved about the liberal arts, liberal arts colleges, and liberal arts education to ensure its relevance and effectiveness for the next generation of students?
Panelists: Bob Connor, Senior Advisor and former President of the Teagle Foundation; Cecilia A. Conrad, Vice President of the MacArthur Fellows Program; Kelly Pfledderer, CEO and Founder of Apparatus.
6-6:45 p.m.
Reception
6:45-8:30 p.m.
Keynote and Dinner: The Philanthropy of the Liberal Arts
Earl Lewis, President of the Andrew W. Mellon Foundation
Introduced by Lora Hess, former Director of Foundation and Corporate Relations at Claremont McKenna College