Wabash - HSC Set for Historic Matchup
by Jocelyn Hopkinson '15 • September 3, 2014

Share:
The Wabash College football team has never had as highly anticipated of a season opener as Saturday's game against Hampden-Sydney College. The contest will feature the 21st-ranked Tigers' high-powered offense against the 16th-ranked Little Giants and their playmaking defense.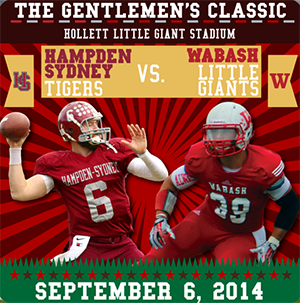 "Obviously our guys aren't going to overlook Hampden-Sydney; they're not going to think they can come out here and give anything but their best and expect to win," Coach Erik Raeburn said. "But I don't think being excited to play is never an issue in the first game. What can get you is being too excited and making mental errors."
The first-ever meeting between Wabash and Hampden-Sydney has been dubbed "The Gentlemen's Classic" because they are two of the four remaining all-male institutions in the country. The historic gridiron matchup has generated so much interest that NCAA President Mark Emmert will assist in the coin flip.
Despite the pregame hype, quarterback Michael Putko '16 doesn't feel added pressure.
"I feel a lot more excitement than anything," Putko said. "We've been waiting for this game since December. I'm not calling it pressure because we've been preparing for it for so long that I think it's starting to turn into excitement because it's finally here."
Tigers' preseason All-American quarterback Nash Nance drives the offense. As a junior, Nance threw for 3,504 yards and 27 touchdowns in 2013. The University of Tennessee transfer also added 17 rushing touchdowns.
Nance's favorite target and fellow preseason All-American Holton Walker led the nation with 1723 receiving yards. Walker snagged 16 touchdowns in 111 catches as a junior.
"It will be the best competition I've ever faced and probably will face all year," first-year-starting-safety Austin Brown '17 said. "I see it as a good challenge. If we can do well against him, then we can probably do great against every other team."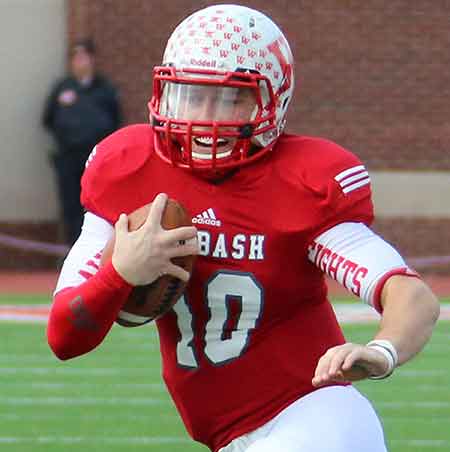 The Little Giants will counter Hampden-Sydney's offense with an aggressive, turnover-producing defense. Wabash led the country with a plus-24 turnover margin and 220.7 yards allowed a game in 2013. The front seven will try to make Nance uneasy in the pocket.
"Our front seven is very good at rushing the quarterback," Brown said. "We just need to keep hitting him — that's one of our keys to stopping him."
Preseason All-American Cody Buresh '15 headlines the defensive front. Buresh had 11 sacks and 20-and-1/2 tackles for loss last season. AJ Akinribade '15 will join Buresh after making 47 tackles and 4-and-1/2 in 2013.
The Wabash defense will also face a unique challenge on fourth down. The Tigers leave their entire offense on the field with Nance in the shot gun. The quarterback usually pooch punts the ball, but the threat for a conversion attempt is imminent. Brown thinks Wabash will counter by sending a return man deep for a fair catch, nullifying any return.
With all the challenges Nance and the Hampden-Sydney offense pose, the simplest strategy might be to keep them on the sideline — they can't score from there. Wabash's ground-and-pound run game should offer a ball-control advantage and limit the Tigers' offensive chances.
"We did run the ball well last year and we obviously want to continue that this year," Raeburn said. "But to beat a really good team, we're going to have to be balanced. We have to improve in the passing game from last year."
Putko completed 64.76 percent of his passes while throwing for 1,702 yards and 14 touchdowns in his first season as the starter. Putko's offseason improvement appeared evident in last Saturday's scrimmage against Wheaton.
"Mentally I think I've improved a lot on my timing with my reads," Putko said. "Last year, I knew what I was supposed to do. I just wasn't catching on as fast as I needed to and seeing it open up."
Putko will face an experienced defense with eight of the 11 players having started last year. Linebacker Josh Doggett recorded 107 tackles to lead the team.
"Definitely something we've noticed about their defensive is that they're extremely aggressive," Putko said. "They like to blitz a lot and they'll play a lot of man coverage."
Aside from X's and O's, Raeburn expressed concern about first-game jitters.
"I think that [not being over excited] will be easier to do with the veteran guys," Raeburn said. "This will be drastically different for the younger guys. I'm sure they're going to be a little nervous and have the butterflies going. But hopefully once they get in there and get a play under their belt, they'll settle down."
Wabash College football returns Saturday at 1 p.m. in Hollet Little Giant Stadium. The Little Giants will have a bye the following week before returning to action on Saturday September 20 at Denison.
Tickets — $5 for adults, $3 for students and children — will be sold day of the game at the entrance gates to Hollett Stadium. Gates open at noon.

Live video of the Gentlemen's Classic is available at http://www.wabash.edu/live. Live statistics from the game can be viewed here.