Freshman Orientation Starts New Academic Year
by Richard Paige • August 22, 2014

Share:
Freshman Orientation signals the start of a new academic year at Wabash College as the Class of 2018 arrives on campus, highlighted by the "Ringing In" ceremony on Saturday afternoon.
An incoming class of 264 students is expected Aug. 23, as check-in begins at 9 a.m. with move-in following from 9:15-11:30 a.m.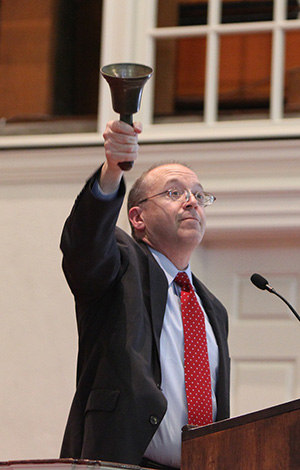 One of Wabash's dearest traditions is on display with the "Ringing In" ceremony, which begins at 1 p.m. in Pioneer Chapel. The ceremony marks the official beginning of students' lives as Wabash men. Using the hand bell that once belonged to Wabash's first teacher, Caleb Mills, President Gregory D. Hess will ring in this class, as Mills did more than 180 years ago.
Following the ceremony, there are opportunities for freshmen and parents to meet with mentors, advisors, and professors. A presentation entitled, "An Introduction to the Gentleman's Rule" is scheduled for students from 7-8 p.m.
Click here for a link to the Ringing In ceremony.
Click here for a complete schedule of orientation events.