Celebrate the Arts – 2014-15 Calendar
• August 19, 2014

Share:
CELEBRATE THE ARTS – 2014-15 CALENDAR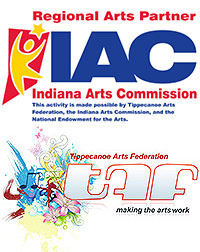 The Visiting Artist Series is funded in part by the Tippecanoe Arts Federation, the Indiana Arts Commission, and the National Endowment for the Arts.
---
2015 SPRING SEMESTER
Wednesday, April 22 – Saturday, April 25
Theater Department presents The Beaux' Stratagem by George Farquhar
Directed by Dwight Watson
Ball Theater, Fine Arts Center
8 p.m. each evening
After squandering their fortunes on drink and gambling, Tom Aimwell and Jack Archer, two roguish Londoners, seek refuge in the countryside. They hope to seduce two ladies of status and fortune, but true love and a band of thieves soon complicate their scheming. George Farquhar's racy Restoration-era comedy, The Beaux' Stratagem, uses wit and character to critique class, marriage, and the English society of the early 1700s. This modern adaptation by Thornton Wilder (Our Town) and Ken Ludwig (Lend Me a Tenor) recreates the Restoration period with rough-and-tumble romance, spirited dialogue, and enchanting, hilarious characters. "[Mr. Farquhar's] plays have a certain air of novelty and mirth, which pleased the audience every time they were represented; and such as love to laugh at the Theatre will probably miss him more than they now imagine." John Oldmixon, The Muses Mercury, (1707).
Friday, April 24 – Sunday, May 17
Art Exhibit: Senior Art Majors Exhibit
Eric Dean Gallery, Fine Arts Center
Opening Reception: Friday, April 24, 2015, 4:30–6 p.m.
Wabash College senior art majors Tyler Andrews, Jesse Caldwell, Jacob Childress, Patrick Embree, Brady Gilliam, Scott Hastings, German Padilla, Matiss Strods, Duc Trinh, Aaron Troyer, and John Vosel will exhibit their art works. The exhibit represents a final rite of passage for these talented men who have dedicated their academic focus to the visual arts.
Sunday, April 26
Chamber Orchestra Concert
Salter Concert Hall, Fine Arts Center
7:30 p.m.
The program will consist of three romantic works: a suite of dances from Tchaikovsky's immortal opera Sleeping Beauty; the Holberg Suite by Edvard Grieg; and Symphony #2 in D by Jean Sibelius.
The Sleeping Beauty Suite may be of particular interest to children in the audience, since they will recognize the sweeping waltz quoted in the classic Disney animated film of the same name. The Holberg Suite remains one of the most performed works of Grieg, whose other popular works include the Peer Gynt Suites (performed by Wabash College Chamber Orchestra in past concerts), and the Piano Concerto. Written "in olden style," the Holberg Suite evokes the nostalgia of bygone times and displays the string instruments to brilliant effect. Jean Sibelius, widely acknowledged as the dean of modern Scandinavian composers, is perhaps best known for the Finnish national anthem, Finlandia. His Symphony #2 masterfully evokes the harsh grandeur of the Finnish landscape, and is deeply rooted in ancient Finnish lore from Finland's national epic saga, The Kalevala.

Under the direction of Alfred Abel, the concert is free and open to the public. Families are welcome, and may find this concert a comfortable environment in which to introduce young children to classical music.
Tuesday, April 28
Student Recital
Salter Concert Hall, Fine Arts Center
4:30 p.m
Ticket InformationAdmission to the art galleries, theater productions, music events, and Visiting Artists Series programs is FREE. Tickets are not required to view exhibits in the art galleries or to attend Music Department concerts. FREE tickets are required for Theater Department productions and Visiting Artists Series programs.
Spring semester tickets available Monday, January 19, 2015
Contact the Box Office by: email: boxoffice@wabash.edu; Phone: 765-361-6411
Box Office Hours: Monday through Friday, 8:30 a.m. to 12 noon and 1:30 p.m. to 4 p.m. The Box Office will open 90 minutes before curtain time for Theater and Visiting Artists events. Please note: Tickets not claimed at the Box Office 10 minutes prior to curtain will be released to the general public.
All events and locations are subject to change. Please visit www.wabash.edu/calendar for the latest calendar information.
---
PAST EVENTS - 2014 FALL SEMESTER
Friday, September 5
Visiting Artists Series presents The Whipstitch Sallies
Salter Concert Hall, Fine Arts Center
8 p.m.
The Indianapolis paper NUVO calls The Whipstitch Sallies "bluegrass rockers with panache." Four women command the stage with their electrifying presence, traditional instruments, and tight harmonies. Allie Burbrink drives the rhythm on open-back banjo and guitar while Kat Erickson holds down the groove on upright bass. Sam Roberts' blistering mandolin licks and Katie Burk's spirited fiddle leads kick up an exuberant racket that's rooted in mountain music but informed by styles from country and jazz to indie rock. Their 2013 EP Hand 'Em Over was voted Best New Album in the Brown County Music Awards. They have quickly developed a fan base throughout central Indiana and broaden their audience with every show they play.
Monday, September 8 – Saturday, October 11
Art Exhibit: Connectivity: Technology and the Natural World
Eric Dean Gallery, Fine Arts Center
Opening Reception: Monday, September 8, 2014, 7–8:30 p.m.
Gallery Hours: Monday–Friday 9 a.m.–5 p.m., Saturday 10 a.m.–2 p.m.; Saturday, March 22, 10 a.m. - 5 p.m.?
Connectivity: Technology and the Natural World exhibit presents two artists whose works hinge on the dominant theme of nature and technology.
In Array, John Douglas Powers explores multiple mythologies, from classical antiquity to 8-bit video games, via mechanical sculptures and static objects. His work interfaces with nature through a dialogue about landscape and natural patterns.
Host uses customized electronic media to interpret our relationship to the natural world. How do current technologies redefine this relationship? How do our inventions impact our survival? Claudia Esslinger uses optical panels to obscure and reveal an abstracted vision of the sublime, while simultaneously using electronic controls to threaten its disappearance.
Thursday, September 18 & Friday, September 19
Theater Department presents The 10 Simple Rules to Become a Gentleman
Experimental Theater, Fine Arts Center
8 p.m. each evening
Accompanied by rave reviews from appearances at the Indianapolis Fringe Festival, The 10 Simple Rules To Become a Gentleman comes home to the stage at Wabash! FringeTalk blog called the ensemble "irresistible both on and off stage. Their enthusiasm is infectious and their talent is remarkable," and Nuvo magazine gave the show 4 stars, delighting that "the six characters offer up a brash, foul-mouthed, and (it should be said) tongue-in-cheek dose of relentless action, as they rattle sequentially through their 10 simple rules for becoming a gentleman… the phenomenal energy that this young group of promising performers brings to the table is difficult to resist." The 10 Simple Rules was collaboratively devised by AJ Clark, Corey Egler, Patrick Kvachkoff, Tucker Mark, Chris Szostek, Donovan Whitney, Rory Willats, and Prof. Jessie Mills. VIEWER DISCRETION IS ADVISED.
Sunday, September 21
Visiting Artists Series presents Akropolis Reed Quintet (Fischoff Competition Wind Division Gold Medal winners)
Salter Concert Hall, Fine Arts Center
8 p.m.
Described as playing with "imagination, infallible musicality, and huge vitality" (Fanfare Magazine), the Akropolis Reed Quintet is a cutting edge ensemble that performs an innovative, living repertoire with acclaimed precision. Akropolis' dynamic concerts feature modern compositions framed by invigorating arrangements of classical music spanning four centuries. Founded in 2009 and winner of the 2014 Fischoff Gold Medal, Akropolis took Grand Prize at the MTNA and Plowman chamber music competitions consecutively in 2011, and in 2012 they were Runner-up at the Yellow Springs National Chamber Music Competition, Silver Medalist at the Fischoff Competition, and Bronze Medalist at the International Chamber Music Competition held at the New England Conservatory. Championing the next generation of maverick musicians, Akropolis is also winner of the 2015 Fischoff Educator Award.
Saturday, September 27
Homecoming Concert by the Glee Club
Salter Concert Hall, Fine Arts Center
7:30 p.m.
Saturday evening's program will open with the Glee Club marching into Salter Hall on the best and the longest fight song in the country, which is, of course—Old Wabash. Originally an Italian song, All Ye Who Music Love has become one of the most popular English madrigals of the late Renaissance. Brothers Sing On, often regarded as the "national anthem" of men's glee clubs.
Monday, October 13
Visiting Artists Series presents Kevin Kling & Simone Perrin
Salter Concert Hall, Fine Arts Center
8 p.m.
Kevin Kling, best known for his popular commentaries on National Public Radio's All Things Considered and his storytelling stage shows like Tales from the Charred Underbelly of the Yule Log, delivers hilarious, often tender stories. Kling's autobiographical tales are as enchanting as they are true to life: hopping freight trains, getting hit by lightning, performing his banned play in Czechoslovakia, growing up in Minnesota, and eating things before knowing what they are. Kling tells stories and Perrin punctuates them with songs and her accordion accompaniment.
Wednesday, October 22
Visiting Artists Series presents Defamation by Todd Logan
Salter Concert Hall, Fine Arts Center
8 p.m.
A professional African-American woman is invited to the home of a successful Jewish man for a potential business project. After the meeting he realizes that his family heirloom watch is gone. Hereby hangs the story of DEFAMATION, wherein this very dilemma leads to a riveting courtroom encounter that illuminates our common perceptions about race, religion and class. In this case, the plaintiff is Ms. Wade, a professional black woman from the South Side. The defendant is Mr. Golden, a successful North Shore businessman who is Jewish. The play opens with Judge Adrian Barnes laying out the case as well as the stakes involved. Following testimony from each side plus a key witness, the judge tells the audience he's not going to adjudicate the case; the audience will be the jury. He polls them once. Then the judge leads the audience in a 15-20 minute deliberation. He polls the audience a second time. The result decides the evening's trial. The case is not a simple "he said, she said." There are twists and turns that keep the audience on their toes. A case without a smoking gun, DEFAMATION challenges our preconceived notions about race, class, religion and even the law. As audience members and then jurors, we learn as much or more about ourselves as we do the plaintiff and the defendant.
Saturday, October 25
Music Department presents The Telephone
Salter Concert Hall, Fine Arts Center
7:30 p.m.
The Telephone is a comic opera in one act by Italian-American composer Gian Carlo Menotti and will be performed by Lisa Lowry, soprano, Jerome Síbulo, baritone, and Paul Pisano, piano. This light-hearted opera is one of Menotti's most accessible. In this story, Ben would like to propose to Lucy before he leaves on a trip. Before he can pop the question, the phone rings and Lucy talks on and on, leaving him frustrated. Finally, Ben calls Lucy from a nearby telephone booth and proposes. The phone conversations range from chatty to argumentative to consolatory with corresponding playful, dramatic, and lyrical musical settings. The opera was composed in 1946 to be paired with Menotti's opera The Medium; both were presented in 1947 on Broadway as part of the Ballet Society's opera season. Despite positive reviews, audiences were small at first. After famed conductor Arturo Toscanini attended and his attendance was leaked to the press, the seats were always full. The Telephone has been performed on radio and television, and its popularity has led to translations into many languages.
Monday, October 27 – Saturday, December 13
Art Exhibit: Chapter 96: Eat Cold Eels and Think Distant Thoughts: Works by Noel Anderson
Eric Dean Gallery, Fine Arts Center
Opening Reception: Monday, October 27, 7–8:30 p.m.
Gallery Hours: Monday–Friday 9 a.m.–5 p.m., Saturday 10 a.m.–2 p.m.; Saturday, March 22, 10 a.m. - 5 p.m.
Noel Anderson's exhibit simultaneously investigates and parodies other's projected desires on black male bodies. Through custom woven tapestries, works on AstroTurf®, collage, sculpture, and a "non-lecture" performance, Noel Anderson will continue his inquiry on the historical and contemporary projections of, on, and around black male bodies.
Monday, November 3
Visiting Artists Series presents Pam Houston, author
Korb Classroom, Fine Arts Center
8 p.m.
Pam Houston is a contemporary master of fiction. Her first collection of short stories, Cowboys Are My Weakness won the 1993 Western States Book Award and brought her an international audience. Her subsequent collection of short stories, Waltzing the Cat, also a best-seller, received the Willa Cather Award for Contemporary Fiction. Her two novels, Sight Hound and Contents May Have Shifted, also met with critical and popular acclaim. In addition to her fiction, she has published a collection of essays, A Little More About Me. Ms. Houston taps into the mythos of the American West and her writing has been fed by her fearless encounter with the wilder places of that West.
Wednesday, November 5 – Saturday, November 8
Theater Department presents Guys and Dolls by Jo Swerling, Abe Burrows, and music and lyrics by Frank Loesser
Directed by Michael Abbott
Ball Theater, Fine Arts Center
8 p.m. each evening
---
2015 SPRING SEMESTER
Friday, January 23 – Saturday, February 28
Art Exhibit: ¡Revolución!: Estampas De La Revolución Mexicana Prints and Justseeds Artists' Cooperative Selected Prints
Eric Dean Gallery, Fine Arts Center
Opening Reception: Friday, January 23, 2015, 4:30–6 p.m.
Gallery Hours: Monday–Friday 9 a.m.–5 p.m., Saturday 10 a.m.–2 p.m.; Saturday, March 22, 10 a.m. - 5 p.m.
This powerful exhibit features a 1947 portfolio of linocut prints, Estampas De La Revolución Mexicana, which narrates the events of M
exico's 1910 Revolution. Alongside these historical works, contemporary relief and screen-prints highlighting labor, immigrant, and human rights bring the struggle for social justice into the present.
The 1947 portfolio came from the People's Graphic Workshop (El Taller de Gráfica Popular or TGP), a collective founded in 1937. Sixteen Mexican artists contributed a total of 85 prints that were acquired by Michael and Kathy Atwell and gifted to the Modern Languages Department at Wabash College in 2013.
Josh MacPhee founded Justseeds Artists' Cooperative in 1998 as a geographically widespread collective of artist-activists who make art for political and social change. The group now consists of twenty-four artists throughout North America, five of whom are represented in this show. Like the TGP and other artist collectives, they produce work individually in addition to collaborating on group projects. Co-curators Laura Conners and Andrea Ferber purchased select prints from Justseeds for this exhibit. The prints are now part of the Wabash College Permanent Collection of Contemporary Art.
Wednesday, February 4 & Thursday, February 5 (POSTPONED)
**THIS EVENT IS POSTPONED DUE TO ACTOR ILLNESS
Visiting Artists Series presents Penélope by Jorge Dávila Vázquez / Teatro Vanguardia USA
Teatro Vanguardia USA is a theater troupe based in New York City
It will be presented in English on Wednesday, February 4 and in Spanish on Thursday, February 5
Ball Theater, Fine Arts Center
8 p.m. each evening
Adapted by acclaimed Ecuadorian author Jorge Dávila Vázquez from one of his short stories, Penélope is a one-woman monologue in two acts that explores the confluence of epic story telling with the mundane life of single motherhood. Set in a village in the High Andes, the title character reveals her life story as she patiently awaits the return of her errant husband. Teatro Vanguardia USA, a Spanish-language theater company in New York City, debuted Penélope at the Producers Club Theater in the fall of 2013. Directed by Iván Argudo, Yolanny Rodríguez will present her award-winning performance twice—the debut of Wabash Professor Dan Rogers' newly translated English-language version and followed by in Spanish. the next evening.
Friday, February 20
Visiting Artists Series presents Evening of Barbershop Quartets
Salter Concert Hall, Fine Arts Center
8 p.m.
The Visiting Artists Series invites you to a rousing evening of barbershop harmony in Salter Concert Hall, Fine Arts Center, on Friday, February 20, at 8:00 PM. The program features Instant Classic and Late Shift, two award-winning Indiana quartets. Instant Classic is a quartet of four good friends—David Zimmerman–tenor, Theo Hicks–lead, Kohl Kitzmiller–baritone, and Kyle Kitzmiller–bass—who have a passion for barbershop harmony, a cappella music, and youth outreach. They have been active in the competition circuit since their formation, and have since become the 2011 Cardinal District Quartet Champions, the 2012 International Collegiate Quartet Silver Medalists, and recently received 8th place at the International Quartet Contest held in Las Vegas in 2014. The group has performed at a number of venues across the United States and Canada, and has also served as the guest teaching quartet for over ten Youth in Harmony Camps. Be prepared to enjoy music from several decades and a variety of styles including vocal jazz, musical theater, pop, and even R&B!
Combining musicality, a ringing blend, and singing tags late into the night, Late Shift was formed in 2013. The quartet includes long-time barbershoppers Bob Kendall, baritone, and bass Adam Winans, who grew up learning and singing barbershop with the Banks of the Wabash Chorus in Terre Haute, Indiana. The lead, Andrew Myer is a former Purdue Varsity Glee Clubber, while the soaring tenor voice of Tim Martin returns to barbershop after a long absence. The guys are honored to be the 2014 Cardinal District Quartet Champions and are eager for the opportunity to support and represent their home Cardinal district. Singing tags all night and always the last to leave, Late Shift is about singing great, even late.
Wednesday, February 25 – Saturday, February 28
Theater Department presents The Aliens by Annie Baker
Directed by Jessie Mills
Experimental Theater, Fine Arts Center
8 p.m. each evening
(Audition dates are January 19-20 in Experimental Theater, Fine Arts Center at 7 p.m. each evening.)
Sharing the 2010 Obie Award for Best New American Play, Annie Baker's The Aliens centers around two angry young men sitting behind a Vermont coffee shop and discussing music and Bukowski. When a lonely high-school student arrives on the scene, they decide to teach him everything they know. "Gentle and extraordinarily beautiful…inordinately delicate…Ms. Baker may just have the subtlest way with exposition of anyone writing for the theater today…there is something distinctly Chekhovian in the way her writing accrues weight and meaning simply through compassionate, truthful observation." –NY Times
NOTE: The Aliens contains adult themes and language. Suggested for age 16 and older. Smoke will be present in the theater during performances. The Experimental Theater is not handicapped accessible.
Friday, February 27
Student Recital
Korb Classroom, Fine Arts Center
4:30 p.m.
Tuesday, March 3
Visiting Artists Series presents Purdue Symphonic Band
Salter Concert Hall, Fine Arts Center
8 p.m.
The Visiting Artists Series presents the Purdue University Symphonic Band in concert at 8:00 PM on Tuesday, March 3 in the Salter Concert Hall, Fine Arts Center. The band is under the direction of Assistant Professor of Music Ishbah Cox. The Symphonic Band will perform two of the best-known works for wind band—the English Folk Song Suite by Ralph Vaughan Williams and Roger Nixon's Reflections. Written in 1923, the Folk Song Suite was Vaughan Williams' first work for military band. Nixon was a student of the 20th-century composer Arnold Schoenberg and composed Reflections in 1965. The band will perform El Capitan, one of John Phillip Sousa's finest marches. Two newer works by composers David Gorham and Brant Karrick will also be on the program. The Symphonic Band will feature Wabash College's Adjunct Instructor of Trumpet and Pleasant Hill Elementary Music Teacher, Mr. Chad Downey. Members of the Symphonic Band are selected by audition and are musicians who are committed to a high level of musicianship and performing excellence. The Symphonic Band presents a variety of challenging new works for wind band, as well as the standard and core repertoire within the wind band literature. The students in Purdue's Band and Orchestra Department do not major in music, but continue a lifelong passion for music while studying a variety of disciplines, including Agriculture, Management, Education, and the Liberal Arts. Seventy percent of the student musicians performing in the Department are majoring in Science, Technology, Engineering, and Math (STEM). The Department boasts over 700 students in its ensembles—Jazz Bands, Orchestras, Concert Bands, and athletic pep bands.
Friday, March 20 – Friday, April 17
Art Exhibit: Undercover: Selections from The Kinsey Institute
Eric Dean Gallery, Fine Arts Center
Opening Reception: Friday, March 20, 2015, 4:30–6 p.m.
Gallery Hours: Monday–Friday 9 a.m.–5 p.m., Saturday 10 a.m.–2 p.m.; Saturday, March 22, 10 a.m. - 5 p.m.?
Undercover presents a selection of photographs, prints, paintings, and sculptures from The Kinsey Institute that explore the stories we tell one another about sex, stories that seek to obfuscate, glorify, mystify, boast, or jest about sex. Talking about sex—but without really ever talking about sex. The Kinsey Institute at Indiana University works towards advancing sexual health and knowledge worldwide. For over 60 years, the institute has been a trusted source for investigating and informing the world about critical issues in sex, gender and reproduction. Please be aware that works in this exhibit contain nudity and sexual situations.
Friday, March 27