2014 St. Louis Sendoff-Biggest Ever!
by Tom Runge • August 17, 2014

Share: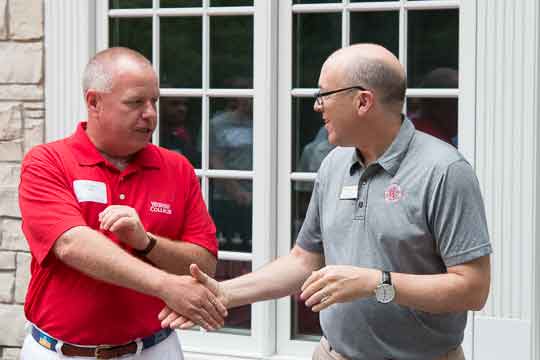 The St. Louis alumni group held its biggest sendoff party ever at the home of Anne and Tom Walsh '73 on Saturday, August 16, 2014. Alumni spanning the Classes of 1955 through 2014 and their families joined together to welcome incoming Wabash freshmen and their families as well as our new Dean for Advancement, Michelle Janssen.
The St. Louis event is the standard-bearer of Sendoff parties and the model has been adapted in other Wabash communities. Many thanks to Anne and Tom Walsh for again opening their home to the local Wabash community.
President Gregory Hess provided an update on all that's happening at the College including the effort to provide new residential options for Wabash's students. The President introduced Dean Janssen and Wabash's Lacrosse coach, Terry Corcoran.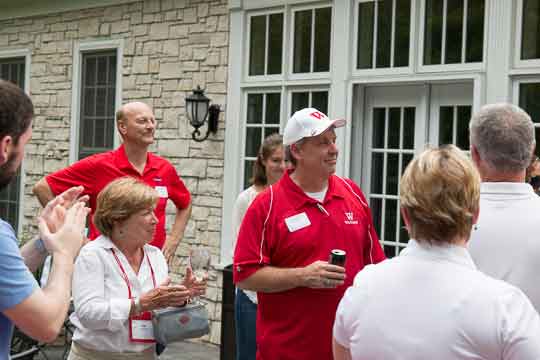 It was also a time of transition. Jim Dyer '83, who really increased alumni involvement in the St. Louis area, has taken new employment in the Indianapolis area. The group thanked Jim, and his lovely wife Susan, for all they have done for Wabash and for the community in St. Louis. Kenneth Farris '12 is stepping up to lead – big shoes but he's also a talented young man.
Many thanks go to Anne and Tom Walsh, Susan and Jim Dyer, and to Kenneth Farris for another great Sendoff party.
Photos:
Top - Tom Walsh '73 welcomes President Gregory Hess to make remarks
Middle - The Group thanks Jim Dyer (hat) and his wife Susan for all they have done
For more photos of the event - click here