Klembara Excels in Opportunities
by Clayton Randolph '16 • August 11, 2014

Share:
Grant Klembara '15 knows how to find an opening on the football field. He knows how to keep a receiver from touching the ball. What he doesn't know is his future career path.
Klembara spent eight-weeks of his summer as a marketing-business development intern with Allegient, an Indianapolis IT consulting firm. He was able to experience marketing, sales, social media, and even blogging with a top Indianapolis company.
Klembara relished the opportunity. "It was phenomenal," he said. "The people there were great and I really enjoyed the stuff I was doing. Hopefully I'll cross paths with them sometime soon."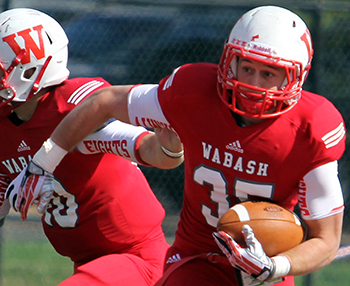 Those paths could cross very soon. Klembara left a strong impression on his boss, Lindsey LaBerge, a marketing manager who wanted an intern to help foster new ideas. He was a perfect match.
"I literally thought the world of him," LaBerge said. "Grant's level of commitment stood out to me. I don't know if that has anything to do with him being an athlete or just having a lot going on at once, but he was extremely committed to Allegient and getting the job done and just being an all-around amazing employee."
Klembara is no stranger to the spotlight. The Dallas, Texas native was a four-year letterman in four sports during high school, while earning an appearance on the cover of Vype magazine - a national publication. When he arrived at Wabash, he had to prove he was worth the hype.
Klembara never saw the football field as a freshman. As a sophomore he played in five games. It was his junior season where the coaching staff saw a transformed player, ready to help the team in whatever capacity. Defensive Coordinator, B.J. Hammer, noticed the change immediately, and attributed it to Klembara's patience.
"He's a good leader," Hammer said. "It showed those underclassmen, and even upper classmen, not to quit. Grant battled and battled, never quit, worked his butt off, and it paid off for him. I think that in itself shows guys if they do that, they're going to get opportunities."
Klembara never looked back. After injuries to Tyler Holmes and Mason Zurek, he moved over to the offensive side of the football. He carried the ball 52 times, compiling nearly 400 yds.
And, just like on the football field, Klembara's work ethic spilled over to his internship. LaBerge feels athletes make good employees because of their time management skills.

"I think it has everything to do with his work ethic," LaBerge said. "I think to be a college athlete, you have to have a high level of commitment and the ability to multi-task while having a million things going on. I think he just had a high standard for himself in terms of getting things done."
Hammer echoed LaBerge's sentiments. "It strengthens your time management skills and leadership abilities. And Grant is not going to shy away from any task as an intern. He's going to work his tail off to be good at what he's doing there.
"Most companies I talk to that recruit our guys, like the fact they have done more than just be a student. The competitiveness involved in football is important because you are going to be in a challenging environment — whether in sales or a lawyer. Whatever you're doing you're going to be in a competitive environment, you need to thrive in that. I think that's helped Grant out a lot."
The Allegient internship opened Klembara's eyes to the possibilities. Marketing was not a career he ever considered.
"I think marketing fit well with my rhetoric degree, and I think in that sense I was more interested in marketing than other categories," Klembara said. "But marketing was not something where I said, 'I want to be a marketing director when I grow up.'"
He also realized he needed to gain as much knowledge as possible in order to be prepared for whatever career field he pursues.
"Allegient is a fantastic company, and it was one of those things where I was going to learn marketing but I was also going to learn sales and also going to learn what it's like to work in an office and interact with people," Klembara said. "I felt the opportunity was too good to pass up.
"Those skills will help me no matter what facet of business I want to go in to. Not so much that I want to be a in marketing the rest of my life, but it also is one of those things I appreciate the internship and think it will help guide me."
Klembara is LaBerge's second Wabash intern and there is just something different about the way Wabash students go about completing their jobs.
"I've had other interns from other colleges when I was in different states, and they did not have that same level of commitment," LaBerge said. "I think it has to do with, I don't know what the quote would be, but just a Wabash Man. It is an ingrained level of professionalism that you instill in the men at your college."
As for that career path, Klembara is unsure where he will wind up. But he does have thoughts on what he wants to do after school.
"Lately I've been narrowing down some decisions I need to make after college," said Klembara. "One would be a dual degree in business and law. I could see myself attending a law or business school for about four years. After that, perhaps an oil and gas industry internship or starting my own business."