2014 OLAB Program Well Underway
• July 15, 2014

Share:

Sixty-two high school seniors from all across the country descended on the Wabash College campus Sunday, marking the 42nd consecutive year of the Opportunities to Learn About Business Program. OLAB is the oldest, fastest, most entertaining, and best business program targeted at high school students in the United States.
OLAB Director Jim Amidon said that selecting students for this year's program was particularly tough, but that he was thrilled with the final results.
"I'm not sure why, but we had the largest number of applicants in recent history in 2014," Amidon said. "While we had to wait-list or reject an incredible number of very talented people, we did select the most diverse OLAB student body in the 42-year history of the program. This group is bright and accomplished and we are excited to see how they leave their mark on such a tradition-rich program."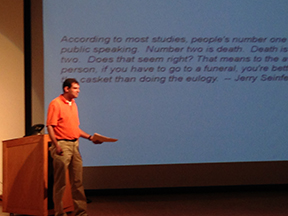 Amidon said that the Internet has resulted in students from all over the country applying for the one-of-a-kind program. Students in OLAB this year come from 16 states and even France. "It's terrific that we have so many students from outside Indiana," said Amidon. "This program used to be limited to in-state students, but we're now internationally known and respected. Getting them all to campus proved to be a bit challenging — students were flying in on red-eye flights from the west coast and from all four corners of the country."
The OLAB schedule in 2014 is once again fast-paced and full of fun. "Labbies," as participants are known, got started immediately with a Sunday afternoon workshop led by Wabash Rhetoric Professor Todd McDorman, before diving headlong into production and marketing games led by Economics Professor Humberto "Bert" Barreto and Game-Master Greg Shaheen.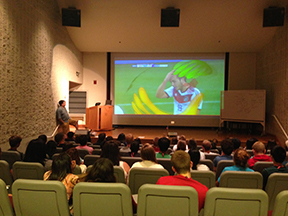 Shaheen introduced sports marketing on a truly global scale late Sunday afternoon, and Labbies were able to watch the second half and extra time in the World Cup championship. Shaheen pointed out the many ways FIFA markets itself and the advertising opportunities available during the broadcast, which was expected to top one billion viewers.
The program enters its 42nd year with a strong counseling group headed by Dean of Students Brittany Craft. "I can't tell you how excited everyone associated with the OLAB program is about this year's students. From the diversity of the class to the wealth of experience our faculty and counselors bring to the program, this will be a great year," said Amidon.
Participants in OLAB are immersed in the study of effective group decision making, speech making, accounting, marketing, advertising, and they will even negotiate a labor agreement on Wednesday — or at least they'll try. A crew of labor lawyers, attorneys, bankers, and trust officers, mostly Wabash alumni, will arrive Wednesday to teach the students the intricacies of labor negotiations.
"It's a very full week," said Amidon. "We try to instill in the students from day one that they need to pay attention, get involved, have fun, and think both critically and creatively. Those are the keys to success and fun at OLAB. And, of course, they are keys to their success as high school seniors and in the future as they head off to college. Everything we teach in OLAB is applicable to everyday life, whether they enter business or some other academic or professional discipline."
Along the way, counselors will provide plenty of recreational opportunities for students.
The Goodrich Trust continues to be the anchoring sponsor of the OLAB program. The program also receives significant contributions from the D.J. Angus Scientech Foundation, as well as service clubs such as Rotary and Kiwanis, and private individuals.
Graduation is set for Saturday, July 19 at 2:00 p.m. in the Fine Arts Center.