Success Built on Trust
by Richard Paige • June 30, 2014

Share:
Jared Lange '08 is all about efficiency.
The director of patient transportation for Crothall Healthcare at Texas Health Presbyterian Hospital in Dallas, leads the support staff in being efficient, quick, and safe while moving patients from admission to discharge.
It's not just the logistics of smoothly moving a patient from surgery to rehabilitation, but finding ways to reduce the length of stay, lower the number of re-admissions, and improve patient satisfaction, thus decreasing costs for the hospital. That's no small task in a 900-bed facility.
"How we can be as lean and as quick as possible?" Lange asked. "From our recruitment to hiring to training and budgeting, we're paying attention to efficiently cutting costs."
While he had little idea that such things were an industry focus when he started in health care five years ago, it was an opportunity provided by a Wabash alumnus that opened doors for Lange.
Back in 2007, he was the first small business intern for Erik Ness '94, at Freight All Kinds, a freight brokerage firm based in Denver. Freight brokers are the bridge between farmer and seller, for example, organizing the transit in this instance from field to sales point.
One of Lange's responsibilities as an intern at Freight All Kinds was the shipping of the watermelons and cantaloupes for Wal-Mart and Sam's Club stores nationwide. He would negotiate the rate and ensure timely pick-up and delivery for each load, valued between $20-30,000.
Being the first such intern meant that Lange would learn as he went. To hear Ness tell it, Lange didn't have time to unpack before he was asked to move some freight.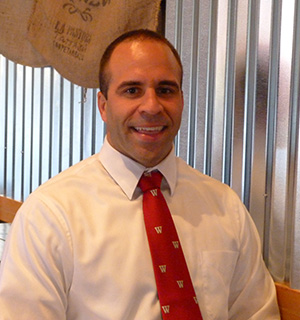 "He walked right in and we put him to work, I believe, before he even unpacked his bags," chuckled Ness. "He had a really good sense of things. I recall that in about two weeks he was doing the work of most 25-year-olds. He was right in the middle of things."
Lange still believes the most valuable variable in those transactions was trust.
"It was the trust that an alum had with a current student," said Lange. "Erik not only trusted me, but gave me the ability to mess up, which I did at times. He said to learn from your mistakes and to always have a back-up plan. I try to pass those skills along to my employees today."
Lange credits Wabash with providing the launch pad for his success. The economics major and math minor knows that the long study sessions, critiques, and discussions that became part of the norm were the key to a bigger payoff.
"When I got out in the real world, I felt so much farther ahead of other young professionals in my ability to understand and solve problems and handle the work load," Lange said. "Wabash teaches us how to succeed."
Following his 12-week crash course in moving freight, Lange eventually turned his sights to the logistics of health care. "I thought that if I could get a piece of fruit from Arizona to New York, how difficult is it to get a patient from one floor to the next?" he chuckled, sarcastically.
He learned quickly that the process has its share of hurdles. Lange also found the connections made with patients by improving their experiences can be life affirming.
"The interaction with patients on a daily basis gives me a different perspective on life," Lange said. "I'm not doing anything clinically, obviously, but I have the ability to touch people's lives. If I, or my employees, can truly make one person's day because we care and have compassion, then it's a greater satisfaction."
Seven years after that initial internship, the connection is still paying dividends for Lange, Ness, and future Wabash Men. Lange has found success with Crothall Healthcare, while Ness, who now runs Commodity Transportation Services, currently employs six small business interns though Wabash.
"It's so cool to know that anyone who graduates from Wabash shares a connection, regardless of who you are and what you do," Lange said. "I'm grateful for Erik and people like Mike Dill '71 and Kelley House '90 for always reaching out. It makes you feel a part of something bigger than yourself. I couldn't tell you where I'd be without those connections."
The guy who helped Lange identify and pursue the small business internship, Schroeder Center for Career Development director Scott Crawford, feels there is no drawback to an internship.
"Students who complete one or more internships have a much easier time getting a job, or getting into graduate school, and are much more likely not to be pursuing their post-Wabash goals in the dark," Crawford said. "Employers often hire full-time talent directly from their intern pool, providing those students with offer options very early in their senior year. There is simply no downside to internship experiences."
Well, perhaps there is one. "I rue the day that I encouraged Jared to spread his wings and explore the world," said Ness. "I should have kept him. As a mentor, I told him to get out in the world. As a professional, I should have made him stay."
A Wabash Q&A
What is your favorite Wabash tradition?
Protecting the Bell and the interactions with alumni in that week. I also love Chapel Sing.
Success and failure are a part of life. To this point, what has been your favorite mistake?
Not taking advantage of all the opportunities I had at Wabash. In hindsight, I should have done more.
If you could cook one meal, what would it be?
I'm a regular old steak-and-potatoes guy from Indiana.
If you could give your 10-year-old self a piece of advice, what would it be?
Don't worry about others people's thoughts. Just do your own thing.
If you have a personal credo, what is it?
My father always said, "Just play hard and have fun." In the work world it's, "Do your best and have fun with it."
If in your dreams you could have created one great piece of art – painting, song, sculpture, prose, etc. – by any other person, what would it be?
I'm an econ and math guy, so…(long pause) it would have been nice to have been a part of Woodstock, on-stage with a band.
If a picture is worth a thousand words, what are you doing in that picture?
Smiling and helping someone else.
If you could wish for one thing in your future, what would it be?
Good health. Be grateful and live healthy.