2014 Big Bash Gets Underway
by Howard Hewitt • June 5, 2014

Share:
Wabash College alums arrived this morning ready to celebrate their class years with possible record attendance. The annual Big Bash celebration kicks off Friday morning and runs through Sunday.
Pre-registration is already at 380 alums which nears the all-time record of 389. Big Bash brings back classes for the "nines" and the "fours" – as in 1989 and 1974- for a weekend of fellowship and re-visiting the alma mater. Activities run through Sunday morning with Colloquia sessions, great meals, spur-of-the-moment mini-reunions, golf tournament and the popular Chapel Sing.
One of the driving factors behind the attendance is the growing participation from younger alumni.
Director of Alumni Affairs Tom Runge reports the Class of 2004 is bringing back 39 graduates. The record for any 10th reunion is 40. Jacob Pactor, class agent and reunion chair, is putting on the push to top that number. This 2004 class led all others on 4/30 with 62 donors. They beat the Donor Challenge by 22 donors.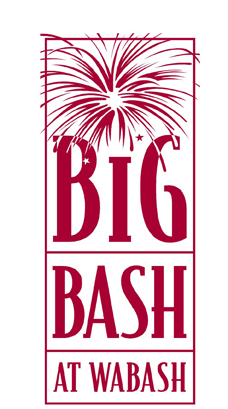 "It's great to see the growing participation of our young guys in the Bash," Runge said. "I know it's tough for them to break away but they bring an energy to the Bash that is tough to beat. The Class of 2007, in 2012, really started the latest trend and the Class of 2008 last year came back in good numbers and won Chapel Sing! The Class of 2004 is poised for a good turnout and so is 2009 this year."
Of course a big highlight is always the 50-year reunion guys, celebrated during the Friday night banquet. President Gregory Hess will present the 1964 graduates attending with a reunion medal. But one alum has all those guys beat. Dick Cherry '49 is the oldest Wabash College graduate registered for Big Bash.
Friday morning features a golf outing at the Crawfordsville Country Club and registration in Chadwick Court. Five colloquiums will be presented by alums with President Hess talking at 3 p.m. about College strategies and the master plan.
Saturday is a full day with a morning fun run and walk, campus tours, more colloquiums and the always fun and popular 11 a.m. Chapel Sing on the Chapel steps. Each class will break off Saturday night for individual class dinners.
Everything wraps up at 11 a.m. Sunday with the Big Bash Awards Brunch. See a detailed schedule and colloquia detail here.
More News
---
---
Related
---
Photo Galleries

2014 Colloquia: Sharing Passions

2014 Bash Friday