Student Art Graces Magazine Cover
by Steve Charles • May 13, 2014

Share: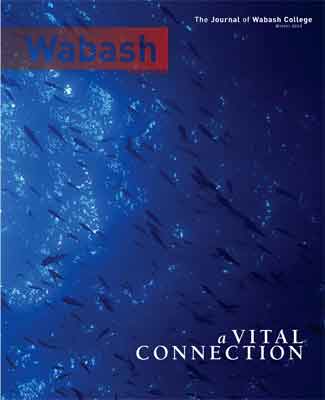 Underwater photography by Kelly Sullivan '15 graces the cover and opening pages of the current print and online issues of Wabash Magazine, the journal of Wabash College. The magazine regularly features student writing and art in its pages, but Sullivan's photographs on the cover and first four pages mark the first time student work has led the publication since 2005, when the extraordinary photographs by Darin Graber '05 of an immersion course experience in New York City were featured.
"For me, macro photography is like meditation," wrote Sullivan, who earned his first scuba certification when he was 10 years old and publishes his photographs online at 500px.com. His reflections on diving off Little Cayman Island are also published in "Flying Over the Edge of Oblivion," an essay in the magazine's Voices section.
"Kelly brings a unique eye to photography," said Director of Communications and Marketing Kim Johnson, who also serves as the magazine's photo editor and selected many of the images published. It was Johnson who first saw Sullivan's work online and brought it to the attention of the WM staff. "Few people take the time to explore and find different angles or perspectives like Kelly does, and it was a world we wanted our readers to experience for themselves."
"Sullivan's work presented so many possibilities for cover art," WM Art Director Cathy Swick said. "But one in particular offered the opportunity to do a front-to-back wraparound cover, a concept we hadn't tried. And the Wabash logo could be placed in such a way that the fish seemed to swimming to the light and the logo, a visual metaphor for the vital connection between the college, students, faculty, and alumni."
"Sullivan's images are incredible," said Professor Emeritus of Biology David Krohne, a frequent contributor to the magazine whose photographs also have been WM covers. "That kind of photography is so difficult, and to be as good as he is already is remarkable."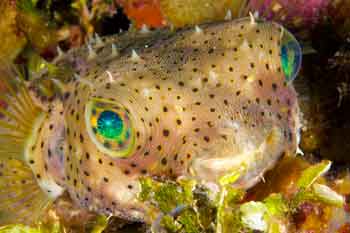 You can see more of Sullivan's work at his Web site: http://500px.com/KMSullivan
While Sullivan's photo wraps both covers, inset into the back cover is another student photo: Senior Ian Baumgardner's image of a Sphinx Club member falling backward during the campus snowball marks the first time student work has graced both covers of the magazine. An award-winning photographer for the College newspaper, The Bachelor—named Division III Newspaper of the Year by the Indiana Collegiate Press Association—Baumgardner has also contributed photos from his coverage of a spring immersion course in Israel, and that work will be the Student Gallery for the upcoming Spring 2014 issue of the magazine.