Kopitzke '14 Wins Junior Peck Medal
by Scott Morrison '14 • April 23, 2014

Share:
Associate Supreme Court Justice Felix Frankfurter once said to a friend preparing for law school that "no one can be a truly competent lawyer unless he is a cultivated man. 'If I were you, I would forget all about any technical preparation for the law. The best way to prepare for the law is to come to the study of the law as a well-read person.'
That is exactly the kind of preparation Wabash attempts to instill in its students, and the 41st annual David W. Peck Awards Banquet celebrated those promising students in the field of law.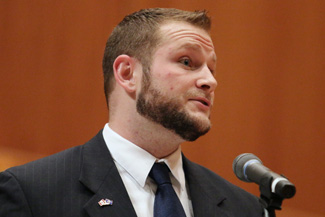 Cory Kopitzke took the top student honor of the night being named the Junior Peck Award winner by Scott D. Himsel '85. "It is of course a great honor to win," Kopitzke said. "Thinking about David W. Peck and the type of attorney he was and that this award is presented in his honor is really humbling."
Each year the Junior Peck Medal is given to the student with special promise in the law. Kopitzke is the latest in a long line of recipients. "Considering others who have won this award (Professor Himsel) being one of them, I feel a sense of pride in knowing that I am included among them," Kopitzke said. It feels good to know that others have that confidence in me and recognize my work."
Kopitzke, a German major, will attend Indiana University's Maurer School of Law in Bloomington in the fall. He then hopes to use his German to go into international public law or international criminal law.
The evening's festivities were closed by the Senior Peck Award winner, Judge Thomas B. Griffith, who is a member of the United States Court of Appeals in Washington, D.C.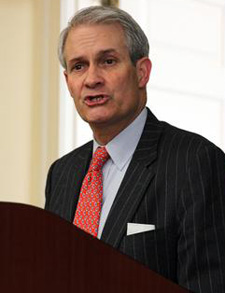 Judge Griffith focused on the importance of the liberal arts in the field of law and in life as a whole. "I am a strong proponent of a liberal arts education," Griffith said. "I received one at Brigham Young University where I majored in humanities in comparative literature, and I count that among the best decisions I have ever made in my life. It is indispensible to me not only in my training as a lawyer and a judge but more importantly as a human being."
The human interaction the liberal arts fosters is a key according to Griffith. "You are human, and in the liberal arts you discover your humanity," Griffith said. "You discover questions that humans ask and wrestle with that make life meaningful. You go to college to study the liberal arts, to learn how to think, to learn how to reason, to learn how to communicate, to learn how to have empathy, to learn that you can learn from other people."
Other Awards Included:
James E. Bingham Award presented by Matthew M. Price '90 – Scott Campbell '14
Irwin-Garrard Prize presented by Aaron Spolarich '08 – Mark Riffle '14
William Nelson White Scholarship Award - Irwin-Garrard Prize presented by John Henry '10 – Nathan Manning '14