Chess Inspires Shaylor's Art Work
by Howard W. Hewitt • April 22, 2014

Share:
Mark Shaylor '14 had never touched a paint brush before arriving at Wabash College from his Gulfport, Miss. home. He was hoping to become a neurologist.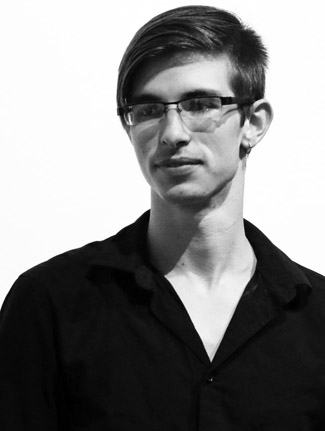 The reality check, as he calls it, of Chem. 111 drove him from medicine to art. Shaylor's paintings are on display now through graduation for the annual Senior Art Show.
Shaylor had drawn and doodled as a high school student but hadn't seriously considered art as a career or college major. "I realized I was not going to be a neurologist, a fanciful dream," he said. "But then I realized there was a lot of comfort in art. It was not so against the grain as other disciplines like calculus, or chemistry. It appealed to my sensibilities, intellect and interests."
His capstone work will be on display in the Eric Dean Gallery of the Fine Arts Center. His exhibit is comprised of eight black and white panels that reflect his thoughts on a lifetime of playing chess with his father – and never beating his dad to this day.
"It's about the strategy leading up to chess; it's really an admiration of the game through admiration for figurative work," he explained. "It's not so much about taking the king or being the victor; it's the strategy required to make the other person surrender or to get them to that point. The strife is the moment being captured in the panels."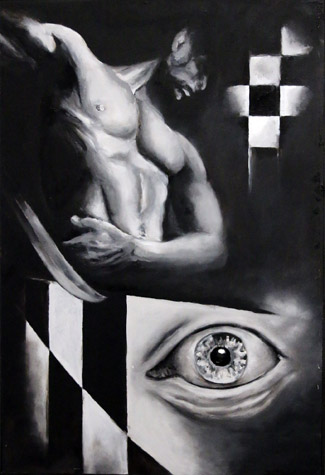 In the show, Shaylor has combined the intellectual stress of the game with his artistic interest in the human form. "I like to render figurative works of human beings - not pornographic. But I think the human form is very beautiful. I enjoy being able to express that. So in this case the introduction of chess is a concept to accentuate figurative work."
After the show closes and graduation ceremonies Shaylor will return to his Mississippi home where he hopes to teach art at his old high school for a few years. His goal is to create work during that time which might lead him to a Master's program.
Presenting his final work at Wabash has also caused reflection. He credited all three faculty of the art department for taking a young man with no art background and helping him succeed. "(Stephanie) Rossi taught me how to paint. (Doug) Calisch taught me how to think about my work. (Andrea) Ferber taught me about the back story behind my work. I'd have to say I couldn't credit any one of them without the other."
More News
---
---
Photo Galleries

Senior Art Show - Mark Shaylor '14