Patrick Stroud Awarded Fulbright
by Richard Paige • April 22, 2014

Share:
Patrick Stroud has earned a Fulbright Scholarship as an English Teaching Assistant in Spain. He is the third Wabash man to earn a Fulbright this spring.
Stroud '14, a product of Noblesville, Ind., was awarded a teaching assistantship and will be based in Madrid, instructing secondary school-aged students (12-16). Stroud's participation in the Fulbright English Teaching Assistant (ETA) program will test his theories on education and re-energizing the classroom.
The ETA program places a Fulbright winner in a classroom abroad to provide assistance to teachers of English to non-native English speakers, while serving in a small role as a U.S. cultural ambassador. The age and academic level of classroom students varies by country, ranging from kindergarten to university level.
"I hope to combine my knowledge of teaching, history, and performance with my language skills in order to elicit effective learning in Spanish classrooms," said Stroud. "I believe my strategies for face-to-face education can revitalize the classroom and make learning new languages and new cultures exciting and fun. Because I have also had training as an actor and participated in Speech and Debate club throughout my education, I hope to coach Spanish students on public performance and memorization in dynamic and interactive ways."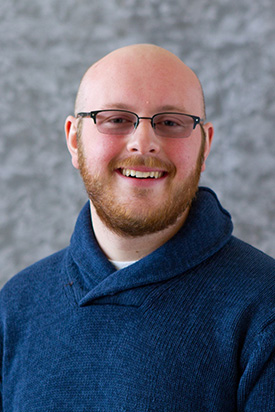 Stroud, a double major in history and Spanish with distinction on comprehensive exams in both, and a Classics minor, also may participate in a secondary project in which he will talk to people who lived through the regime of Francisco Franco. This could aid his immersion to Spanish culture and history through the concept of historical memory, or how groups interpret history and how that shapes culture.
"Patrick is someone who perfectly fits the Fulbright program's desire for cultural ambassadors," said Dr. Eric Olofson, the Wabash Fulbright Program Advisor and an assistant professor of psychology. "He is a sensitive listener, he's comfortable with new people, and he relishes new experiences. He talks about education in a way that says that he wants to be involved in education down the road, and certainly, this is the first step on that road."
Stroud hopes to provide his students with English proficiency, a desire to learn new cultures, and methods for being citizens of the world, three necessary skills that future generations must possess to succeed internationally in business, economics, and politics.
"Patrick is already an academic. The way he throws himself into and researches projects really demonstrates a deep aptitude for the academy and academic work," said Dr. Dan Rogers, associate professor of modern languages. "He's really comfortable with what and who he is. I think that gives him the confidence to look into and explore other cultures."
Further, Stroud feels this trip to Spain will help to achieve his educational goals, and by being in the classroom, encourage communication between unique cultures, experiences, and languages.
"The Fulbright ties right into Patrick's interests," said Dr. Jane Hardy, assistant professor of Spanish and Stroud's academic advisor. "He'll be able to continue to improve his Spanish, which is already outstanding, learn more about Spain and its history, and get some teaching experience. Patrick will make an excellent professor someday. He's able to share his passion and excitement and meet people where they are, engage, and appreciate them. He has that gift."
As a freshman in 2011, Stroud won the Phi Beta Kappa Prize, given annually to the undergraduate who is judged to have produced the most original and meritorious piece of work, whether artistic or analytical. In other creative pursuits, Stroud has also appeared on stage in Wabash productions of "Lend Me a Tenor" and "Macbeth."
In 1945, Senator J. William Fulbright introduced a bill in the United States Congress that called for the use of surplus war property to fund the 'promotion of international good will through the exchange of students in the fields of education, culture, and science.'
From its inception, the Fulbright Program has fostered relationships in which citizens and governments of other countries work with the U.S. to set joint priorities and shape the program to meet shared needs. The fundamental principle of international partnership remains at the core of the Fulbright mission.
The Fulbright U.S. Student Program is the largest U.S. exchange program offering opportunities for students and young professionals to undertake international graduate study, advanced research, university teaching, and primary and secondary school teaching worldwide. The program currently awards approximately 1,900 grants annually in all fields of study, and operates in more than 140 countries worldwide.
Stroud is the fourth Wabash man to earn a Fulbright Scholarship since 2001 and joins Sebastian Garren and Adam Barnes as Fulbright recipients in 2014. Barnes also was selected to the ETA program in Spain.