Wabash Awards Lilly Scholarships This Weekend
by Richard Paige • April 10, 2014

Share:
The best and brightest high school seniors from across the globe will be on campus this weekend for the 39th Lilly Scholarship competition.
Thirty young men, representing 11 states and one foreign country, will participate in discussions and interviews with the goal of earning a Lilly Scholarship. The award covers tuition, room and board, and fees for all four years of a student's Wabash education. The estimated four-year value is $170,000.
Established in 1974 to honor pharmaceutical chemist and entrepreneur Eli Lilly and his family, the scholarship program recognizes outstanding young men who show potential for both academic and societal growth. Honorees will be young men who demonstrate strong character and high potential for leadership during their time at Wabash College and beyond.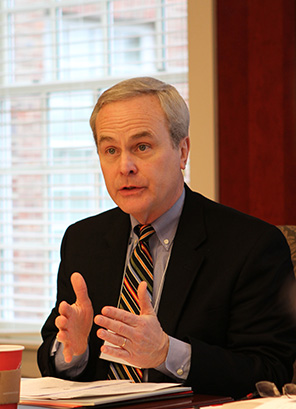 The program includes a Thursday evening welcome and keynote speech delivered by Clay Robbins '79, President and CEO of Lilly Endowment since 1994. He was a religion major at Wabash who earned his law degree from Vanderbilt in 1982. Robbins was an inaugural Lilly Scholar honoree from Perry Meridian High School in Indianapolis.
Students begin individual interviews Friday with a panel of faculty members and alumni, and cap the weekend with a group seminar-style discussion led by members of the Wabash faculty.
The 30 Lilly Scholarship finalists for the Class of 2018 are listed below alphabetically:
Jacob Alaniz; Veterans Memorial H.S.; Brownsville, Texas
Jonathan Alcala Torres; Southwest Early College H.S.; Pharr, Texas
Joseph Alp; Kittatinny Regional H.S.; Newton, N.J.
Samuel Baker; Washington Catholic H.S.; Washington, Ind.
Zachary Bleisch; Noblesville H.S.; Noblesville, Ind.
Cooper Collings; Mattoon Senior H.S.; Mattoon, Ill.
Josue Coronado; KIPP Houston H.S.; Houston, Texas
Jared Cottingham; Lowell Senior H.S.; Lowell, Ind.
John Fischer; Discovery Canyon Campus; Colorado Springs, Colo.
Samuel Gellen; Davis Senior H.S.; Davis, Calif.
Brian Gregory; City Academy; Salt Lake City, Utah
Luke Gunderman; Carmel H.S.; Carmel, Ind.
Preston Hadley; Centennial H.S.; Peoria, Ariz.
Andrew Hamilton; North Central H.S.; Indianapolis, Ind.
Niki Kazahaya; Crawfordsville H.S.; Crawfordsville, Ind.
Jack Kellerman; Lawrence North H.S.; Indianapolis, Ind.
Matthew Kroll; Marian H.S.; Mishawaka, Ind.
Lucas Kseniak; Noblesville H.S.; Noblesville, Ind.
John-Thomas Malone; Cathedral H.S.; Indianapolis, Ind.
Nicholas Morin; Crown Point H.S.; Crown Point, Ind.
Devin Morrow; Wayne County H.S.; Monticello, Ky.
Nathan Muha; Lowell Senior H.S.; Lowell, Ind.
Luke Patterson; Saint Ignatius H.S.; Cleveland, Ohio
Joseph Reilly; Noblesville H.S.; Noblesville, Ind.
Parker Redelman; Carmel H.S.; Carmel, Ind.
Douglas Rourke; North Vigo H.S.; Terre Haute, Ind.
Tristan Stamets; The British School; New Delhi, India
Samuel Surgalski; Saint Francis H.S.; Traverse City, Mich.
Luke Wojtalik; Cathedral H.S.; Indianapolis, Ind.
Shonpa Yeshi; Wasatch Academy; Mount Pleasant, Utah
Lilly Scholarship winners for the previous five years include:
Class of 2017: Cole Crouch, Indianapolis, Ind.; Kyle Stucker, Whiteland, Ind.; Jacob Budler, Parklands, South Africa
Class of 2016: Methuselah Gee, Chicago, Ill.; Patrick Bryant, Carmel, Ind., Alexander Hernandez, La Joya, Texas
Class of 2015: Kristopher Nickle, Rockville, Ind.; Lucas Zromkoski, Valparaiso, Ind.; Edward Pingel, South Bend, Ind.
Class of 2014: Spencer Peters, Brookston, Ind.; Adam Barnes, Bradford, Pa.; Francisco Huerta, Chicago, Ill.
Class of 2013: Riley Floyd, Noblesville, Ind.; Thomas Schmidt, Euless, Texas; Liam Smith, Lawrence, Kan.