Lobert Visit Spotlights Human Trafficking
by Richard Paige • April 9, 2014

Share:
Wabash College will host a discussion by Annie Lobert, a survivor of sex trafficking, at 7:30 p.m. Friday in Pioneer Chapel.
Lobert survived more than 10 years of sex trafficking, working as an exotic dancer and escort. Her presentation addresses the long-term traumatic psychological, emotional, and physical effects of the sex industry.
Since escaping the industry, Lobert founded a non-profit ministry that is dedicated to helping women escape similar situations and has made presentations on the topic across the globe.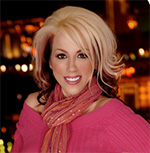 Slavery affects an estimated 27 million people worldwide. Violence against the poor and isolated has vaulted human trafficking to the third-most profitable criminal industry, costing as much as $32 billion per a year, according to dosomething.org.
Lobert's visit is part of a campus effort to engage in a discussion of slavery and its effects in today's world. The effort included "Stand for Freedom," a nationwide campaign for college students to generate awareness and raise money for worldwide organizations on the front lines of this issue. Students took turns standing on the mall, in the same place, for 27 consecutive hours Wednesday and Thursday in support of people enslaved worldwide.
The run of events were co-sponsored by Wabash Christian Men, 'shOUT, MXI, Sphinx Club, Wabash College Democrats, and Wabash College Republicans.