Wabash College Glee Club Concert Sunday
• March 26, 2014

Share: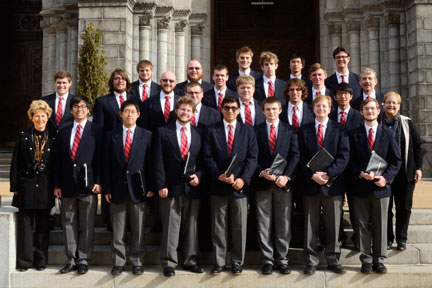 The Wabash College Glee Club will present its Campus Concert at 4 p.m., Sunday, March 30, in Salter Concert Hall in the Fine Arts Center.

The Campus Concert highlights will include Franz Biebl's Ave Maria, a double chorus setting that features a trio singing from "the heavens;" a musical setting of Charles Dickens' poem, Things That Never Die, first performed by the Glee Club last fall for the inauguration of President Hess; several numbers by the Glee Club March 2014 touring ensemble; a piano selection that features eight hands all at once on a single keyboard; and Dr. John Zimmerman's video highlights of this year's Spring Tour.

The Wabash College Glee Club will travel to Richmond, IN to present a 2 p.m. concert at St. John Lutheran Church on Sunday, April 6, in conjunction with the congregation's celebration of its 170th anniversary.

Then, on Saturday evening, April 12, the Glee Club will present a joint concert with the University of Indianapolis Women's Chorus, at 7:30 p.m. in Salter Hall. This year marks the 16th annual collaboration of the Glee Club and the Women's Chorus.

The Glee Club is under the direction of Dr. Richard Bowen and is accompanied by Ms. Cheryl Everett.

The concert is free and open to the public.