Entrepreneurial Efforts on Display
by Richard Paige • March 26, 2014

Share:
The entrepreneurial spirit will be front and center this weekend at Wabash College during the Fourth Annual Entrepreneur Summit on March 29.
The Entrepreneur Summit is scheduled for 9 a.m. to 4 p.m. this Saturday at the Wabash College Fine Arts Center. The goal of the summit is to grow entrepreneurial energy and connections at Wabash, Crawfordsville, and the entire Central Indiana community. More than 300 students and entrepreneurs are expected.
"We created the Summit four years ago to forge a more cohesive Wabash student and alumni entrepreneurial community, in answer to burgeoning student interest levels in entrepreneurial pursuits," said Scott Crawford, director of the Schroeder Center for Career Development. "The event grew from 90 attendees the first year to 250 last year. Attendees have been a good mix of the Wabash community, students from other schools, and regional entrepreneurs."
The morning program features three keynote speakers: Greg Nance of ChaseFuture and Moneythink, an admissions consulting platform and a movement to improve the U.S economic health through financial education; Matt Hunckler of Verge, a community of Indiana technology entrepreneurs, software developers, and business investors; and Wabash alumnus David Weglarz, owner of StiIL 630, a distillery based in St. Louis.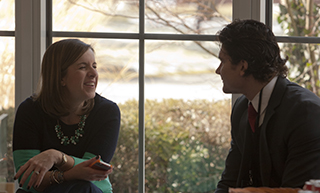 Afternoon breakout sessions include Marty Brown '06 of Lolly Wolly Doodle, a web-based clothing store; Kevin Hitchen of Localstake, a crowdfunding platform for small businesses and real estate developers; Steve Badger '87, an Indianapolis attorney; Michael Cullen of Cross-Alliance, an organization that equips organizations and individuals with strategies to foster commitment and optimize potential; Chad Peterman '09 of BEAST Performance, a sports training facility in Indianapolis; Willie Matis '09 of Millennial Chat, a platform to facilitate dialogue between Millennials and other demographics; and Keith Veal '92 owner of Sustainable Solutions.
The Summit routinely draws attendees to campus from Chicago to Indianapolis. Last year, nearly 15 percent of those entrepreneurs present were from Montgomery County in addition to sizeable groups from many Indiana colleges.
"We were surprised to discover the level of interest in the event from non-Wabash-connected entrepreneurs as far away as Chicago," said Crawford. "It's good to see the level of interest continue to grow."
The weekend also serves as the initial meeting for the Center for Innovation, Business, and Entrepreneurship (CIBE) Advisory Board, which takes place Friday afternoon.
A grant from the Lilly Endowment Inc. jump-starts the CIBE and its advisory board.
"Wabash received a $1 million grant from Lilly Endowment, which will fund a wide range of business and entrepreneurial activities," said Wabash President Gregory D. Hess. "The CIBE advisory board will imagine year-round opportunities for our students. Our reimagined Wabash Student Employment program will allow us to build partnerships with local non-profits, government agencies, and small businesses. These connections will provide mutual benefits for our students and local community."
As a part of the grant, the CIBE will be located downtown in space provided by the city of Crawfordsville and in close proximity to Montgomery County Economic Development, and will provide the co-working space, creativity lab, and resources for students, faculty, staff, alumni, and community members to collaborate, work, learn, and teach together. It will be a venue for the generation, development, and execution of bold ideas by all members of the community; for professional development linking liberal arts to entrepreneurial practice; and for actively building and leveraging networks of collaborative partners, leaders, and advisors.
Joining the College in July 2013, Hess' goal has been to expand the College's academic footprint by creating academic-based initiatives to broaden the out-of-class research and collaborative opportunities for students.
"The CIBE will consider what Wabash now offers its students who have interest in business and entrepreneurship; the opportunities provided by the Lilly grant; how we might create a business plan to sustain the work of the CIBE after the grant has expired; and how we can leverage our powerful alumni body to strengthen our co-curricular offerings," Hess continued.
The CIBE advisory board includes seven Wabash alumni who have proven to be leaders in business and entrepreneurship: David Bowen '99, CEO of MarketMaker4; Aman Brar '99, President of Apparatus; David Broecker '83, Founder, Legacy Biosciences; Jim Dreher '85, Founder and Managing Partner, Option 3; Cory Olson '85, President, LNR Properties; and Joe Trebley '01, Head of Startup and Promotion, Indiana University Research & Technology Corp. Roland Morin '91, Managing Partner/Owner, Innovate Consulting Group, serves as the board's Consulting Director.
Ex Officio members include James Jeffries, assistant director of Schroeder Center for Career Development; Betsy Knott, director of Business Immersion and Leadership programs; Michael Raters, Dean of Students; and Hess.