Honor Students Encouraged to Explore
by Howard Hewitt • March 21, 2014

Share: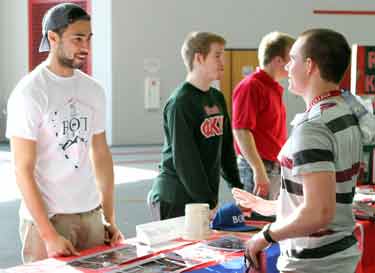 College decisions come down to choices and finding the right fit. Nearly 300 high school seniors from across the nation are trying Wabash on for size during Honor Scholarship Weekend.
Students have navigated the road to Wabash College for 121 years to participate in Honors Weekend. The scholarship competition including testing for scholarship and well-planned get-acquainted sessions is believed to be one of the nation's oldest.
Students enjoyed meeting Wabash students and staff and circulating through the Activities Fair to learn more about how they might become engaged as a future Wabash Man.
The students and parents heard from key Wabash leaders during an 11:30 morning welcome.
President Greg Hess assured parents he understood the stress. Hess has a daughter in college and another who is a high school senior. He challenged the students to seek out Wabash men who've excelled and learn what motivated them to make the most of the Wabash opportunity.
The President also took time to talk about Wabash's unique Immersion Learning Programs. He quoted Mason Zurek '15, a student who studied Rhetoric in Washington D.C. over spring break. And he shared with parents words of appreciation from Jim Morrison, whose son Scott is a Wabash senior and studied over Spring Break in Israel.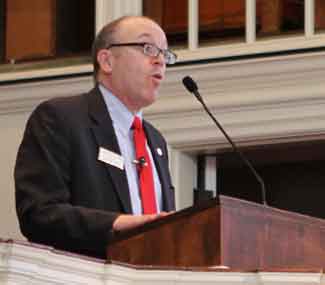 "As we continue to expand immersive learning on and off-campus, we are also in various stages of developing interdisciplinary initiatives in global health, democracy and public discourse, business and entrepreneurship, and the digital arts," the President said. "Taken together, the immersion travel program and the interdisciplinary initiatives help us expand the academic footprint of the College. Increasingly, studies show that students benefit almost as much from out-of-class experiences as they do from classroom work. That doesn't mean you'll get a free pass in class — with an average class size of 13, there are no back rows in our Wabash classrooms.
"What it means is that we are putting enormous resources into creating a model of education that exists 24/7, inside the classroom, in living units, on the playing fields and concert halls, out in the community, and around the world."
Student Senate President Zach Boston welcomed Honor Scholar students and urged them to take advantage of every weekend activity. "Wabash isn't for the weak of heart," he warned. "For many of us, high school was easy, Wabash is not."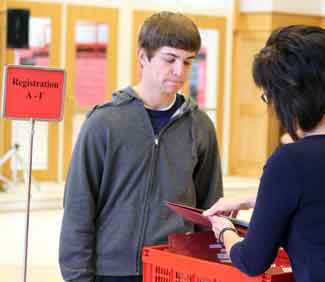 The weekend is for you, said Independent Men Association President Nick Schenkel '15. He explained that if the visitors asked 50 Wabash students the same question they might get "43.79 different answers. So be sure to ask at least 44."
Grant Klembara '15 represented Wabash fraternities and emphasized finding the right fit. But he told the young men no matter any fraternity choice, Wabash students are Wabash men first and foremost.
The Honor Scholar visitors have a full two days of learning about the school, testing for scholarships, and lots of organized fun.
Students from across the country make up this year's nearly 300 visitors. The testing will result in scholarship awards of approximately $3.5 million.
More News
---
---
Photo Galleries

Honor Scholarship Weekend