Wabash Trio Competes on National Stage
by Brent Harris • February 27, 2014

Share:
Two current Wabash runners and a former Little Giant legend experienced competition at the top national level as part of the USA Track and Field Championship and International Qualifying series.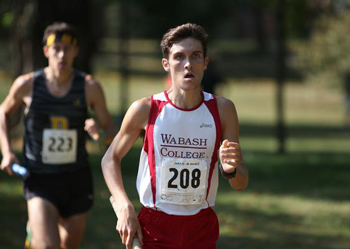 Mason McKinney and Cordell Lewis traveled to Boulder, Colorado to compete at the 2014 USA Cross Country Championships held February 15. Two-time national champion Jake Waterman raced last weekend at the USA Indoor Track and Field Championships in Albuquerque, New Mexico.
McKinney and Lewis raced as part of a field of 55 athletes in the junior division. McKinney finished 22nd with a time of 26:59 while Lewis took 39th place after crossing the line in 28:14. Sean McGorty won the race with a time of 24:44.
"Coach (Roger) Busch wanted to reward a couple of freshmen that were able to compete at the varsity level and performed well during the cross country season, so I was thrilled to be selected," McKinney said. "We were racing against some amazing athletes. There was one kid there from Stanford who ran a 23:50 as a freshman. That's a pretty crazy time. I liked the idea of competing against someone like that. I just wanted to go out and see what I could do.
"The course was muddy and sloppy and I think that led to some slow times. I felt like I placed well competing against other freshmen from around the country, so I feel I can use that to build my confidence over the next three years."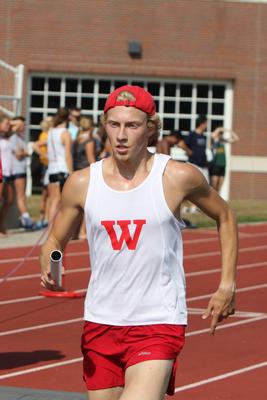 "This was a completely new experience for me," Lewis added. "There was some unbelievable competition out there. I just enjoyed being out there and racing against that field. I wanted to do a little bit better, but it was a great experience I'll carry with me through track and field season and into training this summer for cross country."
Waterman raced in the 800-meter run, an event he claimed both outdoor and indoor NCAA national titles while competing at Wabash. His training with Busch is now preparing for a possible professional racing career. Waterman finished in 1:50.61 in the prelims for 16th place against a field that included Nick Symmonds, a seven-time NCAA DIII champion from Willamette University as well as a two-time Olympic qualifier. Erik Sowinski won the finals of the 800 meters by finishing in 1:47.86.
"Jake is used to running four laps around the track as fast as he can," Busch said. "The biggest change for Jake was that against the runners in his group he was running more towards the back instead of up front as he had at the NCAA national championship events. He does have that big-meet experience which was helpful. What was exciting was to see him competing against Olympians, US national champions, NCAA Division I national champions. It was his first time racing at an elite level as one of the youngest competitors in the field as a 22-year-old young man. I told him to go in with his eyes open, absorb a lot of it, and get some experience to prepare for the outdoor national championships in June."
Busch believes Waterman's professional path can be similar to his collegiate advancement. Waterman qualified for the 800 at the 2010 NCAA Indoor Championship meet as a freshman, finishing seventh to earn All-America honors for the first — but certainly not the last — time. He went on to finish national runner-up in the indoor 800 in 2011 and 2012 before leading wire to wire to claim an NCAA title in 2013. He also won the outdoor 800 NCAA Division III championship in 2012 after a sixth-place finish in 2011.
"College was a four-year schedule of running, but a professional running career can last 8-10 years," Busch said. "He has to decide at what commitment level he wants to dive into the sport. He progressed by about 2-1/2 seconds through his college career, which is very good. If he could continue to do that over the next three or four years we might see him as one of the top five or ten half-milers in the country."
"This is the next level," Waterman said. "These are guys who have raced in Olympics, International Championships and are very respected in the running community. In some ways it is a bit intimidating, but one of the benefits of running here at Wabash is that I do have a lot of experience running at championship-level events. That has prepared me to know what to go through in your mind, what to expect and how to go through the process of getting through prelims to advance to the finals.
"I know I'm competing against Nick Symmonds and other world-class runners, but it's comforting to know I've been in situations like that before during my time at Wabash."