A 40 Under 40 Q&A
by Richard Paige • February 24, 2014

Share:
Below is a Q & A session with Aman Brar, Bob Shaver and Wes Zirkle, the three Wabash men named to the Indianapolis Business Journal's 2014 40 Under 40 list of young achievers. Brar is president of Apparatus. Shaver is a social entrepreneur with a focus on creating a tastier, healthier, and more sustainable food system. Zirkle is the executive vice president of Just Marketing, Inc., a motorsports marketing firm.
1.) The three Wabash men on this list certainly are varied in their experiences. Please describe how important it was to you that Wabash let you experience things and find your own way to success?
Brar: The liberal arts experience at Wabash set the framework for my understanding of the world. The diverse academic, athletic, and leadership experiences were critical to my development.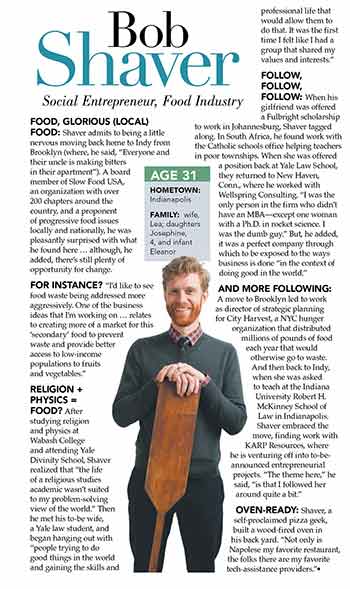 Shaver: Everyone follows their own path. I came to Wabash as a physics major, and left with a degree in Religion. Now I work on food issues. If Wabash hadn't supported me to switch majors, pledge a fraternity, host a radio show, and live in South America, I am sure it would have taken me much longer to find my way.
Zirkle: One of the most important things I learned at Wabash was to be comfortable doing unordinary things. Selecting Wabash was probably the first unordinary thing I did. The next was never practicing in a law firm. I am probably just one of a handful of active practicing attorneys who haven't billed a single hour in their careers. And that bothered me at one point. I started my career and spent almost 5 years at CMG Worldwide as Corporate Counsel. I then moved to JMI to start its legal department. A couple of years in I thought, "Am I a real lawyer… should I move to a law firm since I have never tried the traditional route?" I didn't and I am glad I followed my gut and stayed in-house.
My wife and I joke that our parents are going to be so angry when they find out we've been pretending to be adults. We just don't feel like "pushing 40" ought to feel. I am blessed to have accomplished so much before my 40th birthday. I suppose in that regard Wabash has also taught me to be comfortable with who I am and to have confidence in myself—I don't have the grey hair that somebody in my professional position should have. But what you do is much more important than fitting some predetermined mold.
2.) How did you blaze your own trail? Where did you have that "Ah-Ha" moment when you knew you were on the right path?
Brar: I was fortunate to have my "Ah-Ha" moment early in my career. Experiencing Silicon Valley soon after Wabash was immediate reinforcement of my desire to pursue a career in technology.
Shaver: I found my niche after leaving Wabash, while working as a management consultant on the east coast. I didn't even know what a management consultant was when I applied for the job! Fresh off a theology degree and a stint roasting coffee in South Africa, I had to really dust off my math skills for the interview. But in that work I discovered how exciting a career in the social sector can be. There is a sea change underway in the sector - a slow convergence of the for-profit and nonprofit worlds, with the best of each rubbing off on the other. It's a place where smart, motivated people can apply their passion and intelligence to pressing social problems - and to make a respectable, challenging career of it!
Zirkle: Wow, that's a difficult question to answer. I never thought I would end up practicing law. I was a Religion major at Wabash. I loved the study of Religion but I knew it wasn't going to be a solid career for me. I went to law school to kill time; I figured I would "learn how to think like a lawyer" and then do something else. I think not having a preconception of "what I wanted to be when I grow up" helped me to keep an open mind. While in law school, instead of doing traditional things — and, really, the correct things — like Moot Court and Law Review, I coached the Wabash rowing team and managed a friend's band. It was working with the band where I unintentionally found my calling. I learned that I absolutely loved the business of entertainment. I was a crappy salesman… which is why I didn't book great gigs. But I daydreamed about what the deals would look like if they ever got a record deal… that fascinated me. When I interviewed at CMG, the head of the legal department, Jonathan Faber (a Wittenberg graduate whose father-in-law is a Wabash grad, Lee McNeely '62), was—and is—a professional musician. We really spent the interview talking about bands. Jonathan hired me as a law clerk and gave me my start; he taught me the art of practicing intellectual property in the sports and entertainment field. It's really more about the business than it is about the law. We were always focused on taking infringements, which could have been lawsuits, and turning them into "reverse licensing" deals. I absolutely loved it.
When I was younger I would tell law students that I got lucky. I now know that I wasn't lucky. I followed what truly interested me and put myself in a position to be lucky. Paul's band, which hasn't existed in close to 15 years, probably started my career.
3.) What do you think is the biggest factor in being able to reach this level of success at a relatively young age?
Brar: To steal from Jim Collins (author of Good to Great), worry about "who" more than "what." I was fortunate to work for and with great people early in my career. I learned from them then and I am still learning from them now. Recent graduates too often are focused on title, salary, or brand name of the company and I fundamentally believe they should focus on working with people they believe in and in an environment where they will be forced to learn with intensity.
Shaver: Luck! (laughs) Specifically, I was fortunate to start my career in a role that got me exposure to leadership teams and boards of large, high-impact nonprofit organizations. It takes most people years of working their way up inside an organization before they get a seat in the board room, so that opportunity really accelerated my development. Just being in the room to discuss strategy at this level taught me a lot about how decisions are made within organizations and connected me with the best thinking in the field.
Zirkle: Wisdom. I hope that doesn't sound arrogant, but having a really strong sense of ethics and good judgment has served me well. Age brings experience. Young people certainly have experiences that can be valuable, but it just takes time to store a library of broad experiences that are useful to others. But wisdom is that thing which makes people say, "there's something about that guy… I can't quite say what it is." For me, that has meant listening more than talking. That doesn't mean I'm silent. But lots of people talk too much. When I speak, I try to make it matter; and silence makes a voice that much stronger.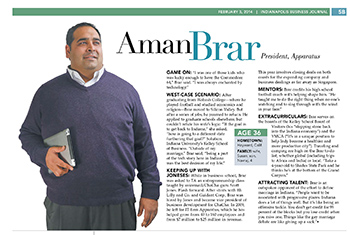 4.) What's the real value in being named to a list like this?
Brar: The list is a reminder of 39 individuals from whom I have a lot to learn.
Shaver: I have been back in Indianapolis less than two years. For most of that time I was focused on projects outside of Indiana. Several of my pledge brothers and friends from Wabash stayed here and have done so much for this city, earning distinction and having an incredible impact here. I feel like I could easily populate a 40 Under 40 list of people who are all more accomplished and impressive than I am. So for me, right now, a real value in being named to a list like this is in motivating me to prove that they made a good choice, by continuing to make a positive impact.
Zirkle: That's also a tough one because I was just honored with the award. Time may change my answer but, for now, I think the value is validation. You can only go you own way so far without asking "am I too far off the beaten path… does any of this really matter… should I have done this differently?" Recognition like 40 Under 40 serves as validation that my gut was right and that my path was worth taking.
5.) What about your story do you think would be most beneficial for current or future Wabash students to know?
Brar: Challenge yourself academically and push yourself to do things outside of your comfort zone. I benefitted immensely from challenging myself and starting early. I knew quantitative skill was important to technology companies so I looked for quantitative rigor in my courses. I wanted a great story to tell when interviewing for full time jobs, so I made sure to have an internship every summer until graduation. I knew telling my story effectively would be important to making an impression, so I would jump at the opportunity to lead discussions. I've been a firm believer in the notion that what separates professional from amateurs is practice, so I started practicing early and it has paid off.
Shaver: The subject of your degree matters a lot less than you think. Eight years ago, I was getting a degree from Divinity School and preparing to become a high school religion teacher. I thought that was a good fit for me. It wasn't. Fortunately, I came to that realization quickly. Every step since then has taken me further away from my training, but closer to my calling. What the world needs is people who care and can solve problems. Very few of those problems require knowledge that can only be learned in a classroom. And very few people have learned enough about themselves as teenagers to pick the degree that aligns with their calling. That's why we have liberal arts!
Zirkle: It sounds cliché… but maybe clichés exist because they are right. But everybody—not just Wabash men—should be true to themselves. That's first. Not to be morbid, but when you are an old man looking back in your life, what matters is if you were happy and you made others happy. Wabash would call it to "live humanely." Don't use that advice as an excuse to be a bum. There is nothing noble about being useless. But whatever you do, do it because that's what you want to do. Don't go to law school because you are a third-generation lawyer. Go because you want to. And damn it, do it with a smile on your face. If you are true to yourself and you can't wait to wake up every morning and live life, then you'll find that you are living with a happy heart. There's nothing better. And I'm talking about living all aspects of life with a happy heart… this isn't just career advice.
Second, be open to new ideas, new experiences, and push yourself beyond your comfort zone. That last one is something that my wife has pushed me to do and she was been absolutely right. My joining the Board of Directors of the United Methodist Foundation of Indiana was one of those moments. I was referred to them by a woman at my church. The President of the Foundation interviewed me. In time, when I got the invitation to join, it wasn't an automatic yes. I knew it would be work and I didn't know if I was ready. I have a busy career, three children, and an awesome wife, and I didn't want to neglect any of that. But with my wife's support, I jumped in and it has been an incredibly rewarding experience so far. And nothing of the things that matter have suffered as a result.