Hauser Earns SFS Distinguished Student Research Award
by Richard Paige • February 21, 2014

Share:
Wabash College student Wes Hauser received a Distinguished Student Researcher award from the School for Field Studies (SFS) for work he did during the fall semester in Australia.
Hauser, a junior from DeSoto, MO, shared the award with research partner Erin Emmons of Holy Cross while working at the SFS Center for Rainforest Studies in northeastern Queensland. The duo used Geographic Information Systems (GIS) software to focus on the habitat the Lumholtz's tree-kangaroo.
"It's such an honor to win," said Hauser. "Having our project stand out to the president of SFS was just outstanding. I was interested in working with some of the software they were using to analyze and answer questions associated with tree-kangaroos. GIS is a spatial, geographical software that you can use for a variety of different questions. That's what I used as the basis for my study abroad."
The duo produced two research papers, "Putting Lumholtz's tree-kangaroo on the map: Using present distribution to assess habitat requirements and identify areas for further surveys" and "Assessment of the Distribution and Habitat Requirements for Lumholtz's Tree-kangaroo Using Spatial Analytical Tools in ArcGIS." These papers contribute to the Center for Rainforest Studies' five-year research plan by addressing a key research issue: understanding social and ecological systems.
GIS technology is used to map, analyze, and assess real-world problems with some part of the linked to locations on the earth. On the most basic level, GIS is used as computer mapping, but the technology also has far-reaching spatial and statistical analysis.
The SFS also stated that Hauser's and Emmons' research is of particular importance for the local Tree-kangaroo and Mammal Group, a non-governmental conservation group in Queensland that has developed a community action plan for the conservation of the Lumholtz's tree-kangaroo and its habitat from 2013-18.
"Through exceptional teamwork they solved various problems linked with the GIS application, and that their results have high relevance for the involvement of the local community in future conservation actions for the Lumholtz tree-kangaroo," said Dr. Sigrid Heise-Pavlov, the duo's research advisor in the award announcement.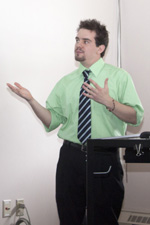 Each year, the SFS honors its most exceptional students with Distinguished Student Researcher Awards for their contributions to environmental research. SFS students engage in undergraduate research guided by faculty on projects related to each of the seven Research Center's individual research plans. The results of these directed research projects provide information and recommendations to community members and other interested parties on critical, local environmental issues.
Students are nominated by SFS faculty for this award based on their demonstrated sophistication in research design, field work, reporting, and their contribution to the Center's five-year research plan. The SFS award also recognizes the student's leadership exhibited while working with a team of student and faculty researchers in the field.
"It's so nice to see Wes' hard work and irrepressible spirit being rewarded. He is a fantastic student and I love seeing him get this kind of recognition," said Amanda Ingram, Wabash associate professor of biology and department chair.