Project VOICE to Appear at Wabash College
• February 21, 2014

Share: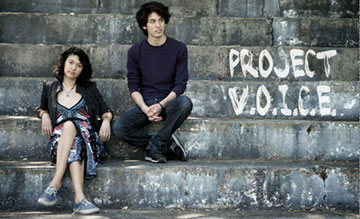 Wabash College's Visiting Artists Series will present Project V.O.I.C.E. at 8 p.m., Monday, Feb. 24, in Salter Concert Hall in the Fine Arts Center.

Project V.O.I.C.E. (Vocal Outreach Into Creative Expression) celebrates and inspires self-expression through spoken word poetry. The co-directors of Project VOICE, Sarah Kay and Phil Kaye, have performed at such diverse venues as TED 2011 (with a presentation that Wired Magazine noted: "blew down the house"), Lincoln Center, the United Nations, and HBO's Def Poetry Jam.

Conceived in 2004, Project V.O.I.C.E. encourages young people to engage with the world around them and use poetry as an instrument to explore and better understand their culture, society, and ultimately themselves. Project V.O.I.C.E. presents a variety of subjects from the personal to the political, and draws from traditions of storytelling, stand-up comedy, song, and lyricism.

Seating for Visiting Artists Series events is by general admission, though free tickets are required.

Contact the Fine Arts Center Box Office by email at boxoffice@wabash.edu; or phone: 765-361-6411. The box office will open 90 minutes before curtain time for Visiting Artists events. Tickets not claimed at the Box Office 10 minutes prior to curtain will be released to the general public.