Brigance: Colleges Can Lead Community Discussion
by Scott Morrison '14 • February 11, 2014

Share:
Leading effectively and living humanely are two core pieces of the Wabash mission statement which require effective communication and deliberation. The Brigance Forum Lecture given by Colorado State University Associate Professor Martin Carcasson illustrated the importance college students can have on community deliberation.
Community deliberation is not something new to Wabash. Last semester, the Rhetoric Department held community forums on substance abuse in an attempt to create constructive conversations about and solutions to drug problems in Montgomery County. For professors like Carcasson, that kind of deliberation is at the heart of democracy.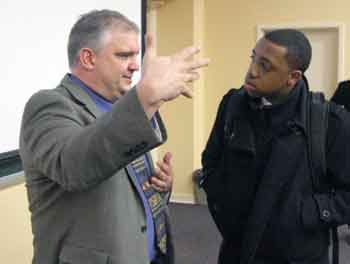 Carcasson's belief is why he heads the Center for Public Deliberation at Colorado State University. He teaches students how to be facilitators and then takes them into the community to lead discussions. Thus far, he and his students have fostered community discussions on hot topics in Northern Colorado such as medical marijuana, water and growth issues, STEM education at the K-12 level and many more.
"We filled a void in the community," Carcasson said. "We thought we were going to be picking our topics, picking our events, seeing if we were going to get people to show up, but as soon as we started, the community, the city, the school district, community organizations like United Way, and different kinds of groups would come to us to ask us to run meetings for them and we have been providing this service [ever since]."
The kind of talk Carcasson focused on in the lecture and that he and his students foster in the community forums is not something he believes is seen on the national level. "I really think our communities are starving for authentic conversations, starving for something real, starving for genuine conversations, and the role of colleges and universities is to provide that," Carcasson said.
All too often, the kind of deliberation that happens on important issues is adversarial or expert as opposed to deliberative which prevents deeper discussion on topics and often prevents action. In a world of tame versus wicked problems, this is an issue.
Carcasson explained the idea of tame versus wicked problems, which is a concept taught by the Rhetoric Department to students here at Wabash. Essentially, tame problems have an answer that can be reached if smart people get together and take the time to analyze them. Wicked problems on the other hand involve inherent tensions and competing values. Wicked problems are the types of problems which our communities face.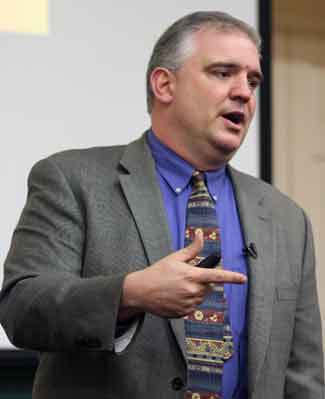 "The heart of the conversation we need to have in our community and the heart of democratic politics is struggling with these inherent tensions that we have," Carcasson said. "Our dominant ways of talk don't do that, distract from that, and avoid that."
Carcasson and his students believe the problems are wicked, not the people involved in the conversations, which means that people are capable of good deliberation, compromise, and eventually positive action. "We tend to want the people to be wicked, because that is a much easier problem to solve," Carcasson said. "It is much more rhetorically effective to have a narrative that is the bad people that we just need to get rid of and they need to change their values. We have created a system that incentivizes bad communication, that punishes good arguments, and rewards bad arguments. That has a lot of negative repercussions."
Carcasson and Wabash Rhetoric Department professors are among many groups across the country who believe colleges have an important role to play in fostering democratic deliberative discussion in the communities they exist. Such a relationship is positive for both the community and students. "I am concerned that sometimes we are teaching students to be somewhat effective in a really bad system, and that just seems like such a limited vision," Carcasson said. "I don't want my students to just be really good communicators; I want them to know how to take responsibility for the communication around them and elevate that. That's the role of a facilitator."
The emphasis on deliberative discussion is booming around the country, and Derek De St. Jean '15 believes that can make a difference in the movement. "If more college campuses were involved in community deliberations, I feel like it would improve the outlook on democracy within the community and within the nation," De St. Jean said.
Cole Crouch '17 is one student who shares Carcasson's passion for deliberation. He attended the talk because BKT Assistant Professor or Rhetoric Sara Drury sparked his eagerness to learn about civic engagement.
Crouch saw a lot of similarities between Carcasson's lecture and what he has experienced in the Rhetoric Department. He also took part in the community facilitations on substance abuse. "I plan on continuing to help because deliberation helps further, if not creates democracy and democratic policies," Crouch said. "I strive to be a positive role model in our community, and I feel that demands a responsibility to be a part of the democratic process. Everything Dr. Drury has taught me up to this point revolves around principles of positive democracy, like deliberation, which is just one form of civic engagement. This is a role I have learned we each must understand to form a better, stronger democracy."
The Brigance Forum Lecture is held annually, and was begun by Joseph O'Rourke and Vic Powell in honor of William Norwood Brigance, professor of the speech department from 1922 to 1960. Brigance is remembered because of his interest in and insistence upon the close relationship between rhetoric and democracy.
The Brigance Colloquy will continue with workshops and informational sessions over the next two days.