Organist Paul Jacobs at Wabash February 9
• February 7, 2014

Share: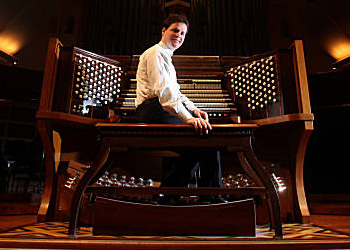 The Wabash College Music Department invites the public to the 15th annual Roger H. Ide Organ Recital at 3 p.m., Sunday, February 9, in Pioneer Chapel. Organist, Paul Jacobs, will play this year's recital.

Jacobs will perform works by J. S. Bach, Robert Schumann, John Stanley, Nadia Boulanger, Edward Elgar, W. A. Mozart and Alexandre Guilmant.

Jacobs, America's most celebrated concert organist, is the only organ soloist ever to receive a Grammy Award (2011). The New York Times calls him a "Brilliant young organist and evangelist for the instrument." He made musical history at the age of 23 when he performed the complete organ works of J.S. Bach in an 18-hour non-stop marathon performance, and has subsequently performed the complete organ works of Olivier Messiaen in nine-hour marathon concerts around the country. He had performed in all 50 states by the age of 31, and has also toured in Europe, Asia, South America, and Australia, and appeared with major orchestras. He is chair of the organ department at The Juilliard School in New York City.

The annual Roger H. Ide Organ Recital is funded by a bequest from Dr. Roger Ide, Wabash Class of 1959, who served as the Wabash College organist while he was a student. The memory of that experience was such a pleasant one for Dr. Ide that he chose to perpetuate the music with a gift that makes it possible to enjoy organ recitals for years to come.

The concert is free and open to the public. A reception will be held immediately following the concert in the Rogge Lounge in Baxter Hall.