Burk Finds His Leadership Niche
by Richard Paige • January 31, 2014

Share:
"Just come by my room sometime and I'll teach you about football," he said.
To some, that could have been a throwaway line used to end a conversation. To Spencer Burk '14, football player and head campus Resident Assistant, it was a chance to make a connection.
One of the guys on his floor in Martindale, an international student, was trying to fit in, but didn't quite understand the game that grips Wabash's collective attention on Saturday afternoons in the fall.
Burk was in his room playing video games one Friday night when he heard a knock at the door.
"Are you free?" the freshman asked. "I was hoping you could teach me about football."
"Sure, yeah, come on in," was Burk's reply.
For the next 90 minutes, Burk used NCAA Football '14 on his Xbox 360 to help him explain the different positions and how they work by running play after play. The freshman scribbled in a notepad.
"That was very gratifying to me to know that something that I said impacted him enough to break out of his shell," Burk said. "Best part is that he went to the game the next day!"
Connection made.
Certainly, connections are a necessary part of an R.A.'s existence. But for Burk, the football tutorial was just a sharing of the lessons he learned as a freshman. He credits his first R.A., Cody Stipes '11, with helping him get through those intimidating moments as a first-year student.
"I had a really good experience with Cody as a freshman," Burk said. He gave me the lens to not be afraid to be a leader. I didn't grasp everything that Wabash was. I was intimidated, but he showed me a way to lead effectively. He was just a guy who was there to help you no matter what the issue…from the toilet being clogged to 'holy crap, I have an F in chemistry.' He was that guy."
As the head R.A., Burk has become that guy himself. From his floor, to campus, to community outreach, he's found enjoyment working with people of all ages.
He's read in elementary schools as a member of the football team. His psychology courses have led him to spend time in area schools and he volunteers to mentor a child at a local church preschool.
"I've found a really good leadership outlet," said the psychology major from Greenfield, Ind. "I enjoy mentoring and leading. I've just always felt a calling to be that mentor, that figure, that someone to look up to."
And the role suits him. Wabash Dean of Students Mike Raters '85 thinks it's just a part of Burk's make-up.
"Spencer is a poised and wise young leader," Raters said. "He is a strong collaborator who is particularly skilled at seeing where a group needs to move on an issue and guiding them there with a positive, influential, and persuasive approach. He is wired as a leader."
Classmate Cory Kopitzke '14 agrees. As a former football player and roommate and a fellow R.A., knows Burk as both a friend and mentor. He, too, says that Burk is a natural leader.
"Spencer is a very friendly and open guy," said Kopitzke. "He is nice to everyone he meets and attempts to make a personal connection with them. He really wants to improve things he is a part of. One of his better qualities is his honesty among his friends; he will tell you exactly how he feels, good or bad."
A pair of knee injuries tested that leadership wiring, but in the end, the experience gained in the recovery helped him find his place at Wabash and identify his career path.
The first happened during his senior year of high school. Because of the timing, Burk never got the closure he anticipated for his football career. So he pressed on, thinking that he would compete in college.
Although he was leery of Wabash's size and location, those doubts were erased by the passion of his lead recruiter, Jake Gilbert '98. "I had a great football recruiter in Coach Gilbert," said Burk. "It was obvious that Wabash was a lot more than I thought. You could see the passion he had for Wabash. It's a certain passion that everyone just throws at you. It's hard to comprehend if you are off campus and not a part of it."
In addition to the passion, Burk feels that Wabash's willingness to deal with you in a direct and straightforward manner was something that helped him become comfortable here.
"My parents said that they always felt comfortable leaving because all of our questions were answered," Burk responded. "There is a different feeling here. You leave here knowing that you've been helped and feeling like people are here to help you."
As a freshman, he injured his other knee in almost the same location. The recovery took nearly a year and the biggest hurdles were mental. The injury had affected how he now played. Burk found himself hiding his leg behind him so that it wouldn't get hit.
Overcoming that mental hurdle opened his eyes to a career in sports psychology. True to form, he sees the value in helping others. "I'm really interested in sports psychology," he said. "It's really cool to know there are people out there who can help. If I felt like that after a minimal injury, how do people feel after catastrophic injuries and reconstructive surgeries?" Burk asked. "I'd like to help people overcome that fear."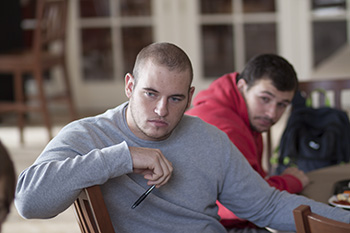 Burk has a credo he uses to describe his personal journey of maturation, one that aptly fits the peaks and valleys of football and mentoring: adversity leads to creativity.
"I really think there is something in the nature of football and the way my career has played out that has shown me how to handle any situation," said Burk. "Injury. Loss. Victory. Handling stressful situations – like the North Central game…is he going to catch it? – losing spots on the depth chart. Waking up early to lift. Everything the sport is comes down to handling adversity. In the motto I express, it's not, 'oh my gosh, this obstacle is in the way,' but 'how can I create some way around this obstacle?'"
Most times, that takes creativity, and Burk can see those benefits filter into how he deals with people in everyday life. "If I have a specific case where a student is having roommate issues or another isn't fitting in very well, you have to be creative in how to solve those problems. One solution does not fit all," he noted.
Unlike football, the victories for a resident assistant are not tallied on a scoreboard, but they are just as meaningful to a guy who helped the Little Giants amass a 37-6 record in four years on the gridiron. When asked about those successes he reminisced about his guys last year from the fourth floor of Martindale through a big smile.
"I had a group of freshmen who just loved each other," Burk recalled. "Sixteen or 18 guys (who were) always in someone else's room together. They had a blast with each other. Being able to facilitate those types of relationships and to be a part of that was a huge success."
A Wabash Q&A
What is your favorite Wabash tradition?
It has to be the (Monon) Bell. It has to do with everything on campus. It's bigger than a game.
Success and failure are a part of life. To this point, what has been your favorite mistake?
When I was in high school, I snuck out with my girlfriend and I got pulled over driving too fast trying to get home. My parents came down pretty hard on me for it. One day I was at home kind of pouting on the couch, saying that I couldn't catch a break. My dad said, you can't expect a break or consider it bad luck when you do something like this. It was a tough lesson in being responsible for your actions.
If you could cook one meal, what would it be?
I could eat pizza for the rest of my life, so if I could cook the perfect pizza…
If you could give your 10-year-old self a piece of advice, what would it be?
Be passionate about the things you do.
If you have a personal credo, what is it?
Adversity leads to creativity.
If in your dreams you could have created one great piece of art – painting, song, sculpture, prose, etc. – by any other person, what would it be?
I'd be involved with anything the Red Hot Chili Peppers are doing.
If a picture is worth a thousand words, what are you doing in that picture?
I'd be with my family spending time with the people I love.
If you could wish for one thing in your future, what would it be?
Having a big healthy family of my own. My ultimate goal is to be the perfect family man.
More News
---
---
Photo Galleries

Resident Assistant Spencer Burk '14 -- Photos by Ian Baumgardner '14