Scola Earns All-Star Game Award
by Brent Harris • January 22, 2014

Share:
Wabash senior Nate Scola received the London Fletcher Award as the Outstanding NCAA Division III linebacker participating in the 2014 USA Football Bowl. Scola was named team co-captain and starting middle linebacker for the winning Admirals all-star team.
Scola participated in the annual event, held this year in Hoover Metropolitan Stadium in Hoover, Alabama. He joined 87 other players from NCAA Divisions I, II, and III along with stars from the NAIA. Scola and his Admirals teammates won 37-13 Monday afternoon over the Generals.
The London Fletcher Award is named for the former John Carroll University star who went on to play 16 seasons in the NFL. He originally signed as a free agent with the St. Louis Rams and also played for the Buffalo Bills and the Washington Redskins. Fletcher retired at the end of the 2013 season. He recorded a school-record 202 tackles in his senior season at John Carroll.
Scola and the rest of the all-star players reported to Hoover Saturday for practice. A banquet was held for the players Sunday evening. Several players remained through Tuesday to participate in a combine-type workout for the NFL, CFL, and various indoor football league scouts in attendance.
Scola made the most of his opportunity to compete against some of the top players from around the nation, including a larger and quicker group of athletes from NCAA Division I teams.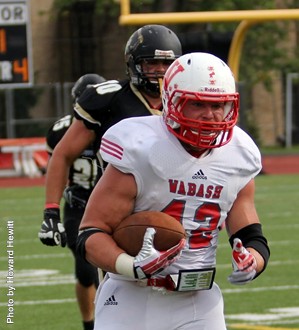 "The Generals' offensive line was easily the biggest I've played against in my career," Scola said after returning to campus. "The speed of the game was also a little quicker than what I normally see each week. However, after the first series I was able to adjust. I felt I played a good game."
Good enough that the Admirals held a shutout until late into the contest, taking a 30-0 lead at one point. Scola recorded a sack against quarterback Jonathan Perry, who completed his career at the University of Alabama at Birmingham this fall.
Scola was named a 2013 D3football.com All-American and earned the Hank Critchfield Award as the North Coast Athletic Conference Defensive Player of the Year. He finished his career in sixth place for all-time tackles for loss in Wabash history with 41.5 total and tied for 18th in quarterback sacks with 12. He also recorded a total of 222 tackles, including 107 solo stops despite playing in only five games as a sophomore after suffering a knee injury. In addition to receiving the Critchfield Award, Scola was selected to the All-NCAC First Team for the second consecutive season.
This season Scola recorded 23.5 tackles for losses totaling 103 yards and 8-1/2 sacks for 63 yards. He also recovered two fumbles, including one at Wooster he returned 69 yards for his second career touchdown. Scola recorded a career-best three sacks at Wooster and made five tackles for losses against Hiram — the second-most in a single game by a Little Giant player.