Abdul Alkalimat to Give MLK Talk
• January 20, 2014

Share: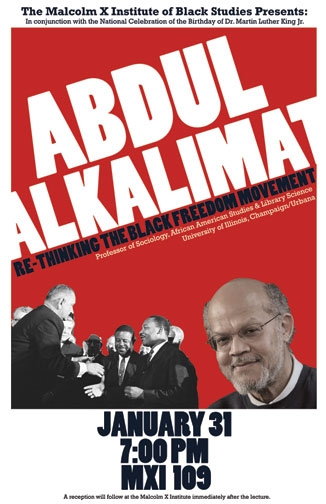 The Malcolm X Institute of Black Studies, in conjunction with the National Celebration of the Birthday of Dr. Martin Luther King Jr., will present Abdul Alkalimat. He will give a talk titled, "Re-Thinking the Black Freedom Movement" at 7 p.m. Friday, January 31 in Malcolm X Institute, room 109.
Abdul Alkalimat is a native of Chicago and received his PhD in sociology from the University of Chicago. He is currently a Professor in African American Studies and the Graduate School of Library and Information Science at the University of Illinois at Urbana-Champaign. He is the author of several books, including Introduction to Afro-American Studies, The African American Experience in Cyberspace, and Malcolm X for Beginners. He moderates the largest African-American Studies discussion list, H-Afro-Am, and created and edits the "Malcolm X: A Research Site" as well as "eBlack Studies."
Alkalimat's lecture is free and open to the public and a reception will follow his talk in the Malcolm X Institute.