HELP Kicks off Second Semester
• January 17, 2014

Share: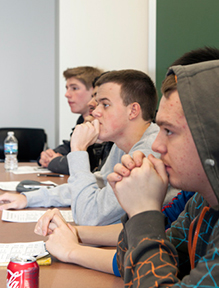 Wabash students started gearing up for the second semester Friday with the annual HELP session designed to equip them with skills to lead fellow students.
HELP, or Wabash Housing and Education Leaders Partnership, is a twice a year program featuring speakers offering advice, training, and tips to campus housing leaders.
Dean of Students Mike Raters gave very brief remarks via Skype from San Diego where he is attending a conference. "We want you to be proactive and intentional in what you do as leaders," he told a full room in Hays Hall. "I appreciate and respect what each of you do. You have a lot of responsibility in your hands in a very challenging world."
Raters also touched upon Title IX issues and how they might apply to Wabash. Coordinator of Student Engagement Heather Thrush lead an afternoon session going in-depth on Title IX and its implications.
The morning was highlighted by sessions on fraternity rush, philanthropy, scholarships, risk management, alumni relations, house management and officer training. Wabash staff Marta Collier, Howard Hewitt, Cathy VanArsdall, Julia Rosenberg, Rich Woods, Tom Runge, along with members of the campus service staff made those presentations.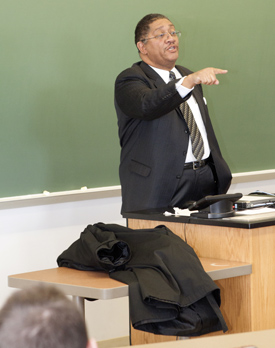 Crawfordsville City Politice Lt. Hal Utterback and Chief Fire Inspector Brian Bechtel joined Campus Security Director Rich Woods discussing safety issues over a pizza lunch.
The afternoon featured rotating sessions on four important topics so that each student leader could attend. The sessions with Leadership & Confrontation with Rich Woods; Reimagining Culture and Diversity with MXI Director Willyerd Collier; Recruitment & Honor Scholar Weekend with Admissions staff Jamie Watson, Chip Timmons, and Alex Moseman; Understanding Mental Health issues with Kevin Swaim and Jamie Douglas.
For the past several years the HELP session's formal program concluded with Wabash alums Dr. John Roberts and Dr. Scott Douglass discussing Substance Abuse: Signs and Response.