Wabash Receives Lilly Endowment Grant
by Richard Paige • December 6, 2013

Share:
Lilly Endowment Inc. has awarded a nearly $1-million grant to Wabash College to promote leadership initiatives and economic development within the state of Indiana.
The Wabash program, The Liberal Arts in Action: The Wabash Initiative for Leadership and Economic Development in Indiana, will create and nurture new partnerships with the city of Crawfordsville, Montgomery County, and small and large businesses with regional and international reach. These collaborations will enhance and extend both curricular and co-curricular offerings available to students from all academic disciplines.
"Wabash is an Indiana-focused institution and remains uniquely positioned to further enhance its role in fostering growth and economic development in the state," said Wabash President Gregory D. Hess. "We have well-established partnerships throughout the state with an extraordinary alumni network of leaders of business and industry. Our goals within this initiative will serve as models for rural Indiana communities and will impact students, alumni, and community members by creating innovative solutions to today's economic issues."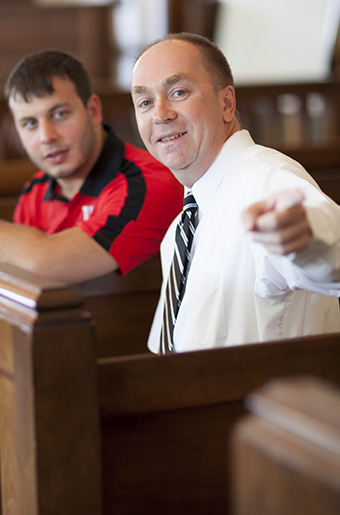 The $999,700 grant over the next four years provides remarkable opportunities for Wabash men to learn about business and service, leadership, and governance. These experiences will foster an appreciation for how the liberal arts prepares them to make both a life and living as citizens of Indiana.
"We are extremely grateful for the Endowment's support of our efforts to provide experiential educational opportunities for our students and to foster economic development in our community," said Betsy Knott, who is Director of Business Immersion and Leadership Programs at Wabash. "Further, the grant will enable us to focus on community leadership development, entrepreneurial resources and education, and strengthening initiatives for students in all majors and disciplines."
The Wabash initiative builds on the success of two previous rounds of funding from the Endowment's Initiative to Promote Opportunities Through Educational Collaborations (IPOTEC) by comprehensively preparing and enabling students from all majors and disciplines — through leadership education, practice, and development — for active, catalytic roles as leaders in economic and civic life of communities throughout Indiana.
"We are thrilled with the impactful learning opportunities our students will enjoy due to the Endowment's generosity," said Dean of Students Michael P. Raters. "The interactive experiences this grant will afford, including immersion, entrepreneurial, and leadership development programming, will enable our creative, critical thinkers to better turn their ideas, aspirations, and potential into realities — creating positive change in themselves, our community and, indeed, our state."
Wabash's previous IPOTEC efforts complemented the liberal arts curriculum with a range of internships and business-related co-curricular activities designed to prepare students for lives of leadership and service in Indiana. The results of those programs were impressive: The graduation rate of Wabash men who completed Indiana internships was over 96 percent, 20 percentage points higher than the all-campus average, and of the 182 graduates who completed internships, 79 percent are now living and working in the state.
The Wabash Initiative includes a wide range of new programs and opportunities for students to hone leadership skills and work with business leaders in Crawfordsville, Montgomery County, and across the state. Specifically, the grant will support:
• The establishment of the Will and Ginny Hays Center for Leadership and Community Development, which will strengthen engagement with the local community. The Hays Center will be located in the downtown business district in space provided by the City and in close proximity to MCED, and will provide the co-working space, creativity lab, and resources for students, faculty, staff, alumni, and community members to collaborate, work, learn, and teach together. It will be a venue for the generation, development, and execution of bold ideas by all members of the community; for professional development linking liberal arts to entrepreneurial practice; and for actively building and leveraging networks of collaborative partners, leaders, and advisors.
• The creation of a new program called Liberal Arts Bridges to Business (LABB), which is designed to guide students from all disciplines at the College to apply the insights, skills, and habits honed in a liberal arts education to the world of business. LABB will include students from all academic areas of the college and engage them with alumni from a wide and varied field of careers. The LABB program will build upon the College's previous success with its Business Immersion Program.
• Partnership with the successful Building a Winning Community program, which will provide students opportunities to work with Crawfordsville Mayor Todd Barton and Montgomery County Economic Development to develop a unique vision and economic development action plan for Crawfordsville and Montgomery County. Students will hone leadership skills by serving on committees that drive, evaluate, and communicate ideas and plans.
• The creation of a competitive mini-grant program for faculty and staff, who can receive funding to develop new or redesign existing courses or programs to include an appropriate experiential learning experience within Indiana such as a civic engagement or service-learning component, an industry-focus with an in-state immersion trip, or a practicum.
The Wabash Initiative's partnerships will include the city of Crawfordsville, Montgomery County Economic Development, and the Wabash alumni network of leaders in business, industry, and the professions throughout Indiana, along with additional Indiana businesses and organizations serving as internship hosts, mentors, and guest experts.
Together with these partners, the Wabash Initiative addresses both the College's institutional mission and the economic needs of Indiana. This program is designed to enhance the positive impact of the goals of retention of college graduates in the state of Indiana, the creation of new positions for college graduates, and the enrichment of the economic vitality of Indiana.
"We are especially excited about our work with the City of Crawfordsville, Montgomery County Economic Development, and other community partners," added Knott. "With the opportunities this grant will create for our students to become community leaders, we know that Wabash College can be a model for rural communities in how to engage young and innovative minds, and to contribute to the overall economic growth of the state of Indiana."