Phillips Lectures at Lynchburg College
by Richard Paige • November 20, 2013

Share:
Higher education and the role of the liberal arts were talking points Wednesday as Wabash College's Gary Phillips presented a lecture at Lynchburg College in Lynchburg, Va.
"Humanities in Action: Doing the Work and Assuring it Works," is the title of Phillips' lecture, and it spotlighted the hurdles facing higher education and the track record of the liberal arts in handling changing social environments. Research from the Wabash College Center for Inquiry in the Liberal Arts was a part of the presentation.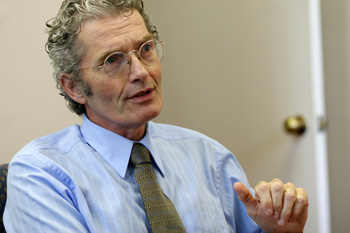 "The lecture is about the humanities, the status of humanities and the importance of the work they do," said Phillips. "We look at the historical context and the development of the humanities out of 14th- and 15th- century Renaissance culture in Europe to its export to America and talk about what skills are important now in the 21st century's digital age."
Click here for an interview with Phillips on the humanities on action
Wabash's Dean of the College since 2006, Phillips is a 1971 graduate of Lynchburg College. He earned his master's from Vanderbilt Divinity School and his Ph.D. from Vanderbilt University. Phillips previously taught at Holy Cross College and the University of the South before his appointment to Wabash.
The lecture marked the start of a busy week for Phillips, as he also will present at the Society of Biblical Literature meeting in Baltimore, Nov. 23-26.